Editor's Note: The following article is reprinted from PCWorld.com. For more of PC World's CES coverage, visit the CES Info Center or PC World's CES Top page.
Camcorders don't usually cause much buzz at CES. This year was different, because the products on show could finally capture the imagination of long-wary consumers.
Over the years, camcorders have been of only modest interest to most consumers, due to the devices' bulk and weight. It also hasn't helped that most decent still cameras can take short video clips.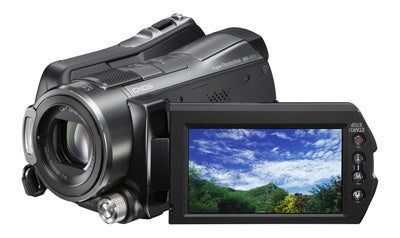 Such resistance could fade now. Sony, for example, debuted two small high-definition camcorders: the HDR-SR12 ($1,400), which includes a 120GB hard drive, and the HDR-SR11 ($1,200), which has a 60GB hard drive. Both can take 10-megapixel photos—more than enough resolution for you to use the camcorder as your still camera. And, of course, both can record in high definition at 1920 by 1080. Both models will be available in March.
In addition, the two camcorders have another great feature in face-detection technology that automatically identifies up to eight faces and corrects focus, exposure, and color controls for both video and still photos.
Flash memory takes center stage
Faster operation and the use of flash-memory cards have allowed the major camcorder companies to reduce the size of their products to unheard-of dimensions for high-performance consumer camcorders.
Samsung's SC-HMX20C records video and stills to 8GB of built-in flash memory, instead of to a hard drive or DVD. As a result, the camcorder is smaller than a soda can and weighs only 10.9 ounces. The SC-HMX20C will take removable SDHC/MMC+ cards if you want extra storage.
Flash memory also means that the SC-HMX20C will start up a lot faster than competitors that use other media. Samsung says it will start in under 3 seconds, a claim the company verified on the show floor. Though the SC-HMX20C isn't in the same league as Sony's models on the still-photo front, it can take 8-megapixel stills, which is very good. Pricing is expected to be between $1000 and $1,100, and the camcorder should be available in May.
Flash memory, specifically SD Card memory, allowed Panasonic to slim its HDC-SD9 down to a mere 0.606 pounds, or about 9.7 ounces. The HDC-SD9's heavier and bulkier relative, the HDC-HS9, is a hybrid model that can record either to SD (or SDHC) media or to its built-in 60GB hard disk.
Both camcorders have face-detection technology and offer Panasonic's Intelligent Shooting Guide, which will detect when shooting conditions are poor and then show tips on the LCD to help the user correct the error before recording the content.
The two models will be available in March with manufacturer-suggested retail prices of $800 for the HDC-SD9 and $1,100 for the HDC-SH9.
Innovations from Canon, Sanyo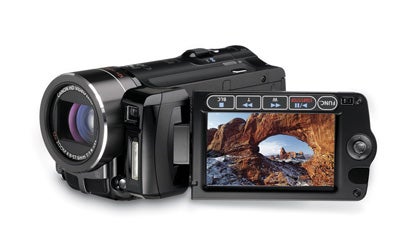 Canon, too, has taken the flash-memory route, using what the company calls Dual Flash Memory in its new top consumer camcorder, the Vixia HF10.
Dual Flash Memory allows the user to record to the camcorder's internal flash drive even if they don't have a spare SDHC memory card. This particular model has 16GB of internal flash, the largest capacity seen at CES. A second, lower-end version, the HF100, features an SDHC memory-card slot only.
Also included in the two camcorders are a newly designed Canon 12x HD video lens and a Canon 3.3-megapixel Full HD CMOS image sensor.
Both are expected to be available in April. Prices were not announced.
If weight is a concern for you, Sanyo's new Xacti HD1000 could be what you're seeking in a camcorder.
It weighs just 9.5 ounces and has a total volume of only 16.6 cubic inches, which the company says makes it the world's smallest and lightest digital camcorder capable of Full HD recording (1,920 horizontal and 1,080 vertical pixels).
How do they do it? If you've been following along, you already know: with an 8GB SDHC memory card.
A word from a memory maker
The majority of the camcorders that drew the most attention at CES were able to shrink because of the use of flash memory, either built in or taking the form of removable SD media. But not just any SD media.
For most of these high-def camcorders to work properly, they must use SDHC cards, which operate more quickly than a standard SD memory card does. SanDisk, a leading SD Card seller, recommends SDHC, which can handle data transfers of up to 40 mbps. The 4GB version retails for $80, while the 8GB version retails for $140.
Note: When you purchase something after clicking links in our articles, we may earn a small commission. Read our affiliate link policy for more details.