Reporters trek out to the desert each January for the Consumer Electronics Show to feast their eyes upon all the new gear and gadgets. But there's another lure and it's not the $7.99 prime rib at an off-the-Vegas-Strip hotel. Rather CES offers the chance to get a glimpse at trends, the discernible directions in which the consumer electronics industry seems to be heading.
To that end, the refinement of existing technologies dominated the news at this year's show. Many of the consumer-electronics technologies featured at past CES gatherings—HDTV and Bluetooth, to name two—have already been out for several years; now that they've achieved mainstream acceptance, companies can target enhancements and usability. As a result, electronics makers seem to be paying more attention to the design of their products—particularly how to make them fit in with consumers' decor and activities. Likewise, with the fundamentals nailed down, lower power consumption and more environmentally-friendly construction start to become not only desirable by consumers, but also feasible for vendors.
And so this year, the flat screens got thinner and bigger, the processors got faster and more efficient, and the connections between various gadgets got both more useful and more usable.
As we walked the floors, booths, and suites of the 2008 CES, here are some of the larger trends that stood out.
Convergence
If we had a nickel for every time someone touted the convergence concept at CES this past week, we wouldn't have needed to hit the slots. In the Mac universe, convergence already has a foothold—think of it as the "If it's in iTunes, I can sync it with my iPod, iPhone, and Apple TV, and play it on any other Mac in the house" mindset.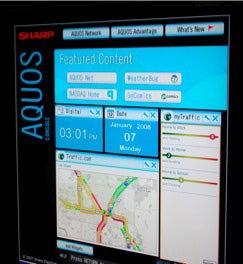 But the idea here is for all your gear (or at least all of it from the same vendor) to be able to access the same content. For example, Samsung announced that many of its new products—TVs, video cameras, and more—will include WiFi and/or Ethernet; the company's stated goal is to "bring different screens together."
The other side of convergence is making traditionally single-purpose products able to take on other tasks. We've seen this over the past year or two in the gaming market; all three of the big consoles (Wii, PS3, and Xbox 360) have Internet and media-playback features. But a number of vendors displayed TVs with Internet features, such as RSS reading, as well as built-in media readers and USB ports for viewing your photos and movies without needing a separate component for playback. And let's not forget the refrigerators with built-in digital-photo frames and RSS readers.
We call it "lifestyle"—you call it "no longer ugly"
Another popular meme this year falls under the ubiquitous-in-press-conferences phrase "lifestyle design." The high-end audio market has used the term for years now, sometimes snidely, to classify products that include some degree of design aesthetic–in other words, products that don't look hideous and take up half your living room. But now the movement has gone mainstream, with TVs, speakers, and home-entertainment components that are both functional and attractive.
Gone are boxy, silver or black DVD players and TVs with hard edges and sharp corners, replaced by glossy-finished components in various hues and curved-edged TVs that blend into your decor—or, if you prefer, stand out for their more-modern design.
To Mac users, this approach likely makes sense—and sounds familiar—but it's finally hitting home with the electronics industry as a whole. And for good reason—according to Philips, consumer electronics is now a $200-billion business, with many purchases made with appearance in mind. (The manufacturer's market research further shows that both women and men are influenced by design these days, but women especially; women either make or heavily influence 61 percent of purchases in this market.)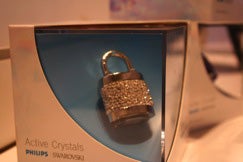 The lifestyle trend also brings devices that are fashion-friendly and integrate into the rest of your life. However, as with any idea, you can take things too far: we saw far, far too many crystal-encrusted electronics—phones, iPod cases, earbuds, and more. Somehow, we don't think the market for glittering thumb drives that double as runway-fashion necklaces is very big.
One other lifestyle trend that was everywhere was wireless. Not wireless as in phones and LANs, but wireless as in "I don't want to see wires anywhere in my house." Thanks to major improvements in wireless technology, this year brought high-end wireless speaker systems, wireless subwoofers that allow for optimal placement without bulky cables, and even wireless HD video. And a number of home theater systems shown at the show included Bluetooth for playing media from your computer, mobile phone, or portable player directly to your stereo.
Content, content, content
Portable-media players, HDTVs, and audio systems are great, but without content to consume, they're little more than useless hunks of plastic. Rare was the consumer-electronics-product press conference that didn't feature some sort of collaborative partnership with a content company. For example, Philips announced a deal with online music provider Rhapsody for a whole slew of portable and home-based music devices.
Internet connectivity opened up other avenues for content as well. As noted above, a new Samsung HDTV pulls down content from USA Today via RSS, displaying news headlines, weather forecasts, and stock prices right on your television. Sharp unveiled a similar Internet-based widget technology called Aqous Net, and Ambient Devices showed off several gadgets that display specified weather, financial, and sports information, including an umbrella that will alert you if it's going to rain or snow. (Note that we're not saying these are all good ideas.)
Touch of gold
You didn't find many iPhone-themed exhibits on the show floor, but Apple's mobile device has clearly made an impact on the industry. Some companies apparently have concluded that making new or existing products that appeal to the populace will be as simple as adding a touchscreen interface, especially when it came to handheld devices.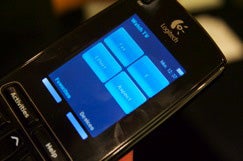 Sony showed off the Mylo 2, the second-generation of its personal communicator, which now incorporates a touchscreen interface in addition to a standard keyboard. Logitech's new Harmony One remote control features a touchscreen that makes it even easier to manage all of your home theater devices.
The LG Voyager and Samsung YP-P2 clearly hope to take some market share from the iPhone and iPod touch by bringing touchscreens to the mobile phone and music player, respectively. And Shogo was rolling out the world's first Wi-Fi touchscreen digital photo frame.
Bluetooth stereo finally arrives
Sure, Bluetooth has been around for over a decade—it's been a common feature in mobile phones, and even computers, for years. But even though the Advanced Audio Distribution Profile (A2DP) for Bluetooth, which allows for the streaming of stereo audio over a Bluetooth connection, isn't new, this was the first CES where we saw a critical mass of stereo Bluetooth products: speaker systems, home entertainment components, portable-player add-ons, and headphones.
Why now? Likely because enough A2DP-capable mobile phones and audio components are out there now that there's a demand for it. Sadly, the iPhone doesn't yet support A2DP, although we've heard rumblings that this could change with an upcoming software update.
It's not easy being green
While 2008 may not turn out to be the year that environmental concerns came to the forefront of the consumer electronics industry, it's clear that there's a growing movement to "go green," for marketing, personal, and practical reasons. Showing that your company is working to lessen environmental impact is certainly good PR, but as consumers demand smaller and lighter gadgets and look to shrink their individual carbon footprints, lower power consumption becomes a must.
To that end, it was the rare major player at CES that didn't try to portray at least one of its products as somehow energy efficient. For example, Intel CEO Paul Otellini touted faster, more power-efficient silicon. Philips announced an environmentally friendly (or at least friendlier) HDTV that's lead-free, complies with the most stringent environmental standards, and even ships in recycled boxes. And electronics giant Fujitsu showed off a laptop with a casing made from recyclable corn-based plastics.
We also saw efforts to conserve energy at the plug. A company called GreenPlug has the noble, if daunting, goal of standardizing the entire consumer-electronics industry on a single, energy-conserving plug/charger system. Peripheral maker Belkin, on the other hand, took a more practical approach with its new Conserve Surge Protector, which lets you shut off individual outlets on the power strip via a remote button on your desk.
Finally, credit goes to the CES organizers for their efforts to green CES as a whole.
iPod integration everywhere
We mentioned this trend in our article on the iPod at CES, but many of the biggest names in consumer electronics–for example, Sony, JVC, Philip, Samsung, and LG–have now embraced the iPod, offering direct integration or ports that accept iPod-specific adapters.
We'll see how each of these trends plays out over the next year. The good news for Mac users is that Apple has been ahead of the curve in many of these areas (Bluetooth A2DP notwithstanding); many of the ideas widely promoted at CES could have come straight out of a Steve Jobs keynote from the recent past. Now it's time to focus our attention on next week's Macworld Expo—perhaps to get a glimpse of some of the trends at CES 2009.