At a Glance
Expert's Rating
Pros
Non-linear world to explore
Turn-based play
Impressive graphics effects
Cons
Small world overall
Easy-to-miss details in low-lit areas
Stingy character leveling
Our Verdict
Basilisk Games' freshman effort is a single-player role playing game called Eschalon: Book I. Envisioned as the first installment of a trilogy, it's an "old-school"-style RPG cut from the same cloth as Ultima and the classic-style games that Spiderweb Software produces. And it's really, really good.
First of all, let's get our expectations in line: This isn't a full-blown 3-D world like Neverwinter Nights. It's not an online romp like World of Warcraft. This is the latest twist in a genre that goes back well into the Apple II days, where you explore dungeons and strange lands by yourself, interacting with computer-controlled Non-Player Characters, slowly amassing skills and abilities, along with a bevy of treasure and special items.
This homage to the RPG games of yore starts with the interface—it's a "tile-based" game that, while employing some light OpenGL graphics effects, is mainly 2-D, albeit displayed from an isometric perspective to give everything something depth and 3-D quality. It also extends to the way you create your character—the classic D&D pen-and-paper game method of "rolling" a new character. Attributes like strength, dexterity and intelligence are randomly generated, as if by dice rolls, and then you can augment them using a limited pool of free points. You select character class—the standard fighter, mage, ranger, rogue, cleric-types—and then you can supplement your character's ability by drawing from a small reservoir of points.
Don't think, however, that because of the unassuming graphics this game has skimpy system requirements. The combination of alpha-blending, particle effects, real-time lighting, layered rendering and AI calculations add up to pretty beefy system requirements—a 1.8GHz or faster CPU is required, so many G4 users will be left out.
In fact, almost every interaction you have with the game is based on dice rolls. It's extraordinarily non-linear in that respect, which is great for RPG players that just want to explore without feeling pressured to follow specific storylines or plots. The downside is that the game doesn't necessarily play down to your level early on, so it's possible—in fact, it's very easy—to wander off into areas where there are higher-level monsters that will kill you almost immediately. This gets frustrating, so it takes some trial-and-error to find areas in the game you're well-equipped and experienced enough to handle.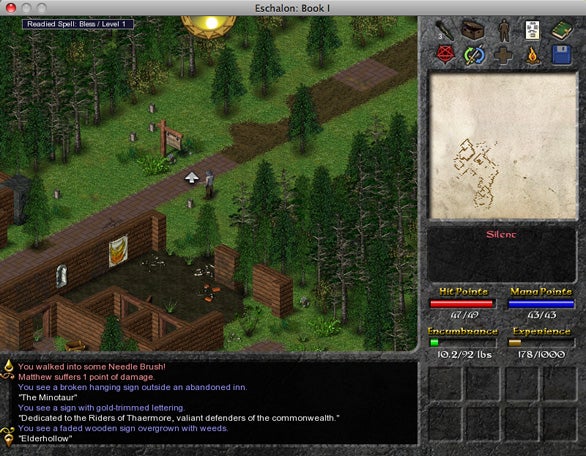 Eschalon cycles between day and night, and you need to take care of your character, letting them rest to recharge. (You can only set up camp in areas away from "dungeons" and other areas with hostile monsters in the vicinity.) If you try to go wandering off in the dark without the benefit of torches or other items that cast light, you'll almost immediately start blundering into objects, or, worse, things that may be upset at being disturbed. The darkness of the game—particularly in indoor locations—irritated me a bit, as I would often miss objects that I needed to use until scouring the area later.
In another throwback to the adventure games of yore, everything in Eschalon is turn-based. This lets you plan your strategy for conquering bad guys or new territories like a chess game. It's great when you get a call or something from the "real world" to distract you, because you can trust no matter how long you're away, nothing's going to sneak up on your character and eat you while you're not looking.
Interactions with computer-controlled characters are pretty simple, linear affairs. When you find a person to talk with, you're presented with a menu-driven dialogue screen that enables you to select simple responses to either prod the person for more details about specific things you're interested in or to just thank them and go on your way. Sometimes these interactions will also trigger missions or quests that you have the option of taking. These missions will reward you with cash or items, and they'll also give you a chance to test out your chops with new weapons, spells and abilities.
There's a pretty finite number of these missions—in fact, the world of Eschalon is pretty small. This may disappoint RPG fans looking for a massive world to explore, but I understand that Basilisk Games is trying to whet our appetite for further installments of the series; plus it's an independent developer with a finite development budget.
For Book II, I'm hoping that Basilisk can do a bit more to strengthen the differences between the game's currently-limited character classes and perhaps improve spellcasting and weapons use a bit, specifically at lower levels. The whole process of gaining skill seems to be a bit stingy, which makes battling the higher-level critters a real problem until you've gone through enough "level grinding" to get a bit bored of the whole affair. Basilisk tells you up front that the game doesn't scale to your skill; the developer seems to think this is a feature, but it can come across as a shortcoming, too.
But having said all that, I'd strongly recommend giving Eschalon: Book I a try, if you're an old Wizardry, Ultima, or Might & Magic fan looking for a game that might give you an idea of what would have happened if those tried and true classics had been developed today.
The bottom line
A little rough around the edges, Eschalon: Book I is a great attempt at an "old school" role playing game that's worth playing, and definitely worth the download time.