Editor's Note: All this week, Macworld editors will report from the Macworld Expo show floor on meetings with Mac developers, new product announcements, and anything else that catches their eye.
My Expo week started early Monday morning, with a visit to the registration table to pick up my badge, and then I went off to sit through some of Microsoft's A Day at the Office session. This 10-hour session covered the new Office 2008 in amazing detail, with a focus on what's new and improved in the long-awaited universal version of the office suite.
Despite the early start and the all-day agenda, there were probably at least 500 people in the room, anxious to learn about Office 2008 before its official Tuesday launch. The presenters came directly from Microsoft, with one person present to talk about each of the Office 2008 apps. In addition to covering each application in detail, there were segments devoted to using Office in a corporate environment, as well as using the improved AppleScript and Automator support in the suite.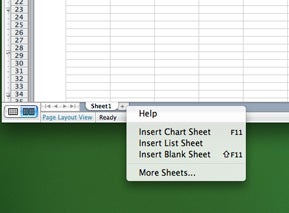 Because I've spent a lot of time with Office 2008 already (I've already written a first look at Excel 2008, and my full review of Office's spreadsheet app will appear at Macworld.com later this week), I didn't find a ton of new information. There was, however, one Excel tip that I hadn't discovered: if you control-click on the new "new sheet" button at the bottom of a workbook, you're presented with a pop-up dialog (like the one to the right—control-click it for a larger view) that lets you choose what type of sheet to add to the workbook.
The attendees seemed to be taking in the knowledge that was being shared, and the questions asked at the end of each segment were well thought out. For those who rely on Office to make a living, this session was loaded with the tips needed to get the most out of the new package.