Apple Tuesday unveiled Time Capsule, a new product designed as companion hardware to the Time Machine automatic backup feature that highlights OS X 10.5.
Introduced as part of the OS X Leopard upgrade last October, Time Machine automatically backs up the contents of your Mac to an external hard drive.
Time Capsule fits into the picture by combining an 802.11n network access point and a hard disk drive. The device is a "full AirPort Extreme base station"—it bears an uncanny resemblance to Apple's wireless base station—combined with "a server-grade hard drive," according to Jobs.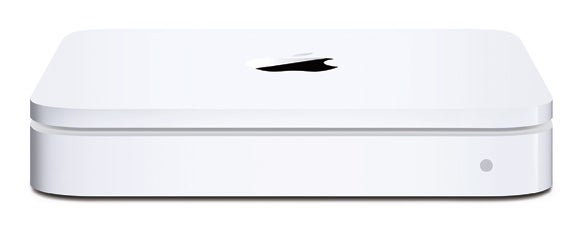 With Time Capsule, users will be able to go back through archived backups to find lost files, photos, digital media, and other data. Once the missing file is found, users can restore it wireless from Time Capsule; they can also restore an entire system from a Time Machine backup stored on the device.
Time Capsule features dual-band antennas for 2.4GHz or 5GHz frequencies. It has one USB 2.0, one Gigabit Ethernet, and three Gigabit LAN ports. The device also has a built-in power supply and can connect to print wirelessly from a USB printer, according to Apple. In addition, Time Machine offers Wi-Fi Protected Access (WPA/WPA-2), 128-bit WEP encryption, and a built-in NAT firewall that support NAT-PMP for Leopard's Back to My Mac feature.
Time Capsule ships in February in two capacities: a 500GB model for $299, and a 1TB version for $499.
Apple is rolling out this companion to Time Machine, just as the Leopard update is enjoying unprecedented success. Introducing Time Capsule during Tuesday's Macworld Expo keynote, Apple CEO Steve Jobs note that the OS X 10.5 update has racked up more than 5 million unit sales in three months—the most successful OS X release in Apple's history.
Apple estimates that nearly 20 percent of its installed base has migrated to Leopard since its October release.
Updated at 11:02 a.m. PT to include more details about Time Capsule. This story was reposted on January 16 to correct a typographical error regarding Time Capsule's built-in NAT firewall.
Note: When you purchase something after clicking links in our articles, we may earn a small commission. Read our affiliate link policy for more details.