During his Macworld Expo keynote address on Tuesday morning, Apple CEO Steve Jobs introduced the MacBook Air, a computer that the company billed as the world's thinnest notebook — small enough to fit inside an interoffice mailing envelope. It's priced starting at $1,799 and will be available within two weeks.
Sporting a silvery finish, the MacBook Air features a 13.3-inch LED-backlit widescreen display that has a 1280 x 800 pixel resolution. The backlighting saves power and provides "instant on" response from the moment you turn it on, according to Jobs. The device has a slightly wedge-shaped profile. It weighs about 3 pounds, and sports a thickness of 0.16-0.76 inches. It's 12.8 inches wide and 8.95 inches deep.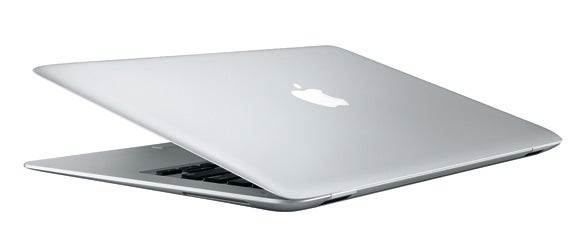 The MacBook Air also features a built-in iSight webcam and a full sized MacBook-style black keyboard. The keyboard is backlit, similar to MacBook Pros, and has an ambient light sensor that automatically adjusts brightness. The trackpad is also capable of recognizing multi-touch gestures, similar to using an iPhone or iPod touch. As a result, the MacBook Air's trackpad is disproportionately large, compared to the size of trackpads found on the MacBook or MacBook Pro.
The MacBook Air features a 1.8-inch hard disk drive with 80GB of storage capacity standard. A 64GB solid-state disk (SSD) drive is an option. The hard drive is a Parallel ATA (PATA) model that operates at 4200 RPM.
The laptop is powered by an Intel Core 2 Duo chip running at 1.6GHz, with 1.8GHz available as an option. Jobs noted that Intel was willing to engineer a new version of the Core 2 Duo specifically to Apple's specifications — it's 60 percent smaller than others. The chip operates with 4MB of on-chip shared L2 cache running at full processor speed, and uses an 800MHz frontside bus. 2GB of 667MH DDR2 SDRAM is also included.
Like the MacBook and the MacBook Pro, the MacBook Air features a slimmed down MagSafe connector for power. It comes with a 45 watt power adapter. A flip-down door on one side reveals USB 2.0, Micro-DVI (to connect an external display) and a headphone jack. The MacBook Air also includes 802.11n-based wireless networking support and Bluetooth 2.1 + EDR.
Apple estimates that with wireless networking turned on, the MacBook Air can get about 5 hours of battery life.
No internal optical drive is included, but Apple will offer a $99 USB 2.0-based add-on SuperDrive for users who need it. For users that opt not to get the optical drive, Apple is offering a new software feature on this machine called Remote Disk; it enables you to "borrow" the optical drive of another Mac or PC on the same network as the MacBook Air, to use for installing software, for example.
Apple's frequently been in the crosshairs of environmental group Greenpeace in recent years. Jobs offered information about the environmental goals behind the MacBook Air — it has a fully recyclable aluminum case, and is "the first" to have a mercury-free display with arsenic-free glass. All the circuit boards are BFR-free and PVC-free, and the retail packaging uses 56 percent less material than the MacBook packaging.
This article has been update since it was originally posted with additional details about the MacBook Air's specifications and dimensions.