Editor's Note: All this week, Macworld editors will report from the Macworld Expo show floor on meetings with Mac developers, new product announcements, and anything else that catches their eye.
Have you ever wondered what it would be like to be a fish in someone's home aquarium? Yeah, neither have I. And yet Tuesday afternoon, I couldn't stop thinking about just that. That's because on Tuesday afternoon, I found myself sitting with my colleagues Dan Frakes, Chris Breen, and Jason Snell to record a roundtable discussion on Apple's keynote announcements. We had an interesting chat about the new gear, including a pretty thorough pros-and-cons overview of the MacBook Air. But when I wasn't talking, all I could think about was fish tanks.
You see, this year Macworld has taken a page from those New York City TV stations that have ground-level glassed-in studios in Times Square and Rockefeller Center. Our Expo booth contains a glass-walled podcasting booth, right smack dab in the middle of the booth. So there the four of us were, sitting around a table, along with our podcast production wizard, carrying on a conversation. Outside our plexiglas walls, booth visitors and passersby would glance in, some stopping to stare for a bit, others just glancing in then continuing on. Occasionally, someone would stand near the glass for a while, for they could actually then hear what we were saying. (There's no top on the podcastquarium.)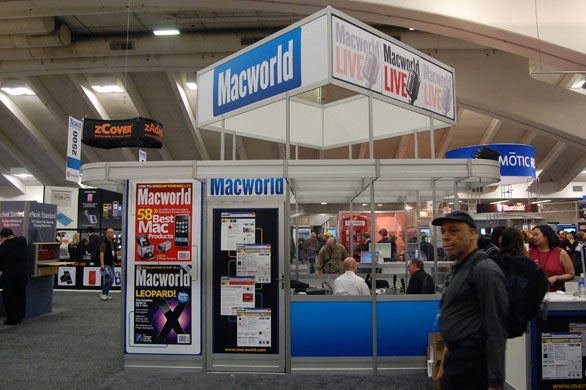 By the end of the hour, I think I'd adjusted to being "inside the tank," and it seemed almost natural—it's definitely a more interesting way to do a podcast, as we can hear the buzz and excitement of the show floor in the background. I think that helped us all keep the energy level up after what was a very long day. For those who are curious (and in San Francisco), we'll be podcasting all week, and I'll be back inside the tank on Friday at noon, with a special guest who flies over for Expo from the UK every year. And please, if you stop by, no tapping the glass—us fish are easily spooked!