Editor's Note: All this week, Macworld editors will report from the Macworld Expo show floor on meetings with Mac developers, new product announcements, and anything else that catches their eye.
Tired of hunting down your camera cable or memory card reader every time you need to download photos from your digital camera? If you have a wireless network set up, the $100 Eye-Fi Card by Eye-Fi lets you download your photos without any strings attached.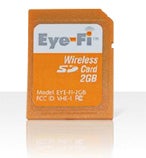 The 2GB SD memory card can connect to a Wi-Fi network, upload photos to a photo site such as Flickr, and automatically download photos to your Mac or PC. The company kicked off Expo week by announcing that the Eye-Fi would also soon support uploading photos directly to your Mac's iPhoto library. (Which helped it capture Best of Show honors at Expo this week.)
The card comes with a USB reader which you use to link the card to a computer and a wireless network. You must also sign up for a free Eye-Fi account, which helps manage the transfer to various online services. Once the card is linked with one or more wireless networks, you use it just as you would any memory card.
If you are within range of your network when you use your camera, the card will upload photos as you shoot. If you've taken photos elsewhere, simply turn on your camera once you are once again in range of your network and the card will upload them all at once. If the paired Mac is turned off, the photos will be downloaded the next time you turn the computer on.