Editor's Note: All this week, Macworld editors will report from the Macworld Expo show floor on meetings with Mac developers, new product announcements, and anything else that catches their eye.
Macworld Expo is a whimsical, magical place. There are giant fake castles—literally, in the booth of bag maker Crumpler—and forests and lots of free candy. Long legged girls in heels hand out freebies—also literally—and chat up boys they wouldn't normally give the time of day. In that spirit, here are some of my favorite little finds on the Expo floor so far. They're all programs for adventurous people who want to dabble in something new and creative.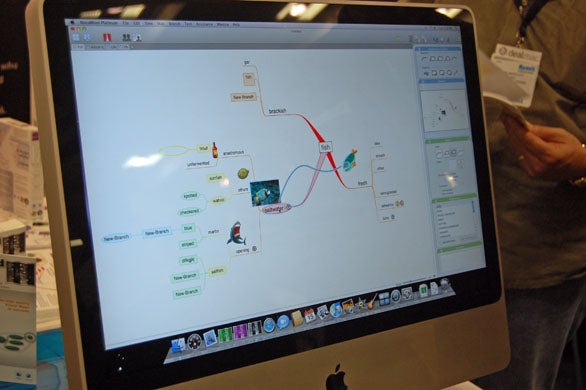 First are the brain organizers: NovaMind and Storyist both have software that aims to organize your (apparently cluttered) thoughts. NovaMind's mind mapping software can overhaul how you process information. I totally respect and appreciate what the software tries to do, even if squiggly free-form charts make me twitchy. (So sue me, I'm Type A.)
Storyist is novel- and screenplay-creating program that could become hugely popular if the WGA strike goes on much longer. (Maybe Fox's Jim Gianopulos should have swung by the Storyist booth after his apppearance at Steve Jobs' keynote.) It takes aspiring writers by the hand and leads them step-by-step through the writing process, MadLib style.
EazyDraw and eMedia Music both offer training wheels for the creatively challenged or beginners. EazyDraw's super basic illustration program is a throwback to the no-need-for-talent, MS Paint days. Doodling is fun and easy again. And eMedia's music training software helps you learn an instrument in the safety of your own home, preferably in some sort of sound-proofed room while everyone else is out.
Finally there's SkyGazer 4 from Carina Software. The new release, aimed at "casual stargazers and teachers," puts the universe on your computer screen, complete with asteroids, nebulae, and planets. Perfect for those of us in light polluted, fog covered cities who sometimes forget there are stars up there.
Note: When you purchase something after clicking links in our articles, we may earn a small commission. Read our affiliate link policy for more details.