Editor's Note: All this week, Macworld editors will report from the Macworld Expo show floor on meetings with Mac developers, new product announcements, and anything else that catches their eye.
If you journey into the deepest, darkest recesses of the West Hall at the Moscone Center this week, you'll find a different assortment of vendors than you find in the more prominent South Hall. Here, you're far from the crowds thronging around giants like Apple, Adobe, and Microsoft. Most of the companies here are niche products being shown off by smaller vendors—some of them, very small.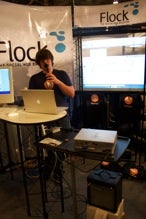 My award for the best one-man-show at this year's expo goes to Evan Hamilton. Evan's the community ambassador for Flock, a free cross-platform web browser based on Mozilla Firefox that's designed to integrate with a variety of popular social networking services like Flickr, Facebook, YouTube, and more. So rather than go to Flickr's web page to upload photos, you can do it from right inside a special interface in the browser. Flock even lets you easily move media between different social networking sites. Want to send a Flickr picture to a contact on Facebook? It's as easy as drag-and-drop.
All well and good, but a web browser isn't the easiest thing to get people excited about it, especially in an age where the likes of Safari, Firefox, and even Internet Explorer dominate. So what's a smaller player like Flock to do? Well, if you're Evan, you get a microphone and a small amp and engage passersby like an old-time carnival barker. And yet there's something so friendly and earnest about the way he does it that you can't help but stop and listen to his spiel. "You, sir, look like a photographer," he said genially as I strolled by the booth, my Canon DSLR draped about my neck.
A decent crowd of us gathered, enthralled, while Evan demonstrated Flickr-integration, even cheerily explaining the unreliability of the Moscone's Wi-Fi connection as he smoothly unplugged his router, then plugged it again, the whole time never losing a beat in his patter. For that courage under fire and for his charming evangelism, we give Evan full marks and hope that he enjoys his prestigious (if rather uncelebrated) award for best one-man-show.