At Macworld Expo, accessory and peripheral maker ezGear announced a new iPod speaker system as well as the WK10 Alarm Clock for iPod, an updated version of its WK7 iPod alarm clock.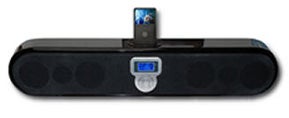 The piano-black XL90 Sound Bar for iPod is a sizable seven-speaker system with four mid-range drivers, 2 tweeters, and a vented subwoofer pushed by a 35-Watt amplifier. The system works with (and charges) all iPods with dock connectors and features a blue LCD display, an AM/FM radio, a wireless remote, plus a spare audio input for televisions or other audio equipment.
The WK10 Alarm Clock for iPod features stereo speakers and a subwoofer, two independent alarms, a large integrated LCD display with several levels of brightness, and a built-in battery so it keeps accurate time even in the event of a power failure. The WK10 works with all dock-compatible iPods and (of course) charges your iPod while docked.
The WK10 Alarm Clock will be available in white or black by March 2008 for a suggested price of $99.99. ezGear hasn't announced pricing on the XL90 Sound Bar, but it should also be available by March.