Editor's Note: All this week, Macworld editors will report from the Macworld Expo show floor on meetings with Mac developers, new product announcements, and anything else that catches their eye.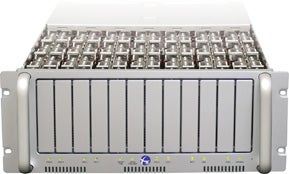 If you think bigger is better when it comes to external storage, you need to meet the SATABeast Xi, Nexsan's new Mac-compatible external RAID system aimed at the professional video market. Offering humongous amounts of storage (up to 42TB) in a relatively compact 4U case design, the SATABeast features dual function Fibre Channel and iSCSI connectivity as well as redundant RAID controllers.
Using a new browser-based interface Nexsan touts as being very Mac-like, the SATABeast has lots of cool features like AutoMaid which lets you decide if and when the system parks heads, spins down drives or puts drives to sleep during periods of non-use. Using these controls, you can run the SATABeast at up to 70-percent power savings.
Prices start at $1,200 per TB, with the SATABeast roaring on to the scene in March.