Editor's Note: Our extensive coverage of Macworld Expo reports on all the latest products coming out of the massive Mac trade show. But what is the average Expo attendee thinking as he or she walks from one end of Moscone Center to the other? To find out, we asked the very epitome of average, Crazy Apple Rumors Site editor John Moltz. What follows is his second report from this week's Expo.
As exciting as Tuesday's keynote was to the Apple-following world as a whole, much of the real fun we here on the ground at the Moscone Center takes place after the keynote is over.
Why are we on the ground, you ask?
Well, I'm on the ground because after all this walking around, my feet hurt. I'm not sure what all these other people are doing on the ground. I think maybe somebody lost a contact lens.
But the excitement at Moscone Center now is having a chance to meet friends, colleagues, various celebrities, and possibly even some bitter rivals.
Where else but Macworld Expo are you going to see the original members of Devo performing covers of their own songs? You may say, but that was Devo. Well, youngster, I remember Devo, and they were a lot younger.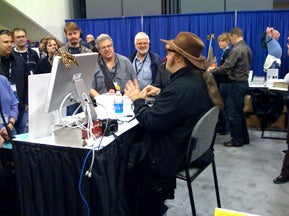 I also saw Sinbad—twice!—and let me tell you, I was impressed. Say what you want about him but the guy still has an entourage (I don't think the kids are calling them "posses" anymore). I had an entourage last year when I came to Expo, but after the bickering over who would wipe the perspiration from my brow, I swore I wouldn't do it again. Sinbad's entourage seemed well behaved, though. I think he keeps them on a tight leash. Good for him.
Apart from actual—if former—celebrities, there are also celebrities of the Mac world. I'm talking about the David Pogues, the Andy Ihnatkos, the Chris Breens, the John Moltzes.
Oh, wait, that's me!
Ha-ha!
How silly.
David Pogue conducted a session on the importance of varnishing your Mac (remember: sand with the grain), while Andy Ihnatko led a panel discussion on what kind of Mac Oscar Wilde would use if he were still alive (consensus: MacBook Pro). I missed both of those, but did attend Chris Breen's Grooming Tips For Macworld attendees. The attendees were all over 40, of course, as the youth of today sadly does not care about good grooming.
I really wanted to stay and hear Chris' hair care tips for the greying Mac-using male, but I had to cut out early. I received a tip that a fight had broken out outside the Moscone Center between the ladies of two rival adult entertainment clubs who were trying to round up randy conference attendees.
It's also fun to stroll the showroom floor an take a look at the goings on at the various booths where companies whose names do not rhyme with "smapple" show their wares.
It's astounding what people will do for convention schwag. One company that sells some very nice iPhone cases was literally making people line up for half-an-hour and then dance for a chance to win one. Really. Again, not making them do that to win one, making them do that just for a chance to win one.
That's fine if you have an entourage, and you can put Thad or Wendy in the line and come back to collect your potential winnings later, but if anyone reading this is attending the Expo, please stop humiliating yourself for their amusement. Just buy the darn thing. Please?
To its credit, even Microsoft didn't do anything so base. Instead, they were handing out charming M&Ms with the Office application logos on them. Strangely, they were all delicious except for PowerPoint which tasted like old gym socks. I don't know why.
How do I know what old gym socks taste like?
It was a fraternity prank. I don't want to talk about it.