If you, like I, are a fan of shiny spinning stuff—namely hard drives in all their shapes, sizes, and configurations, Macworld Expo 2008 was definitely the place to be this week. Video, imaging, iTunes collections, and even Time Machine are making us all reevaluate our storage needs. Luckily the fertile minds of storage engineers are ready and willing to help us meet our needs.
From tiny pocket drives to 720TB behemoths, whatever your storage needs might be, someone on the floor of Moscone Center had the answer to your prayers. Here's a sampling of some of the new and interesting storage systems I encountered.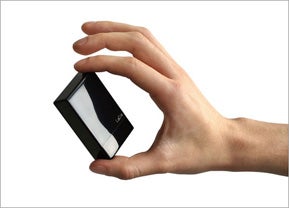 LaCie swept past all competition for the Cute Yet Classy Award with its Sam Hecht-designed Little Disk line. Each of the three enclosures is elegantly designed, with smooth surfaces, well-balanced proportions, and rich, deep chocolatey colors (Mmmm, chocolate…). Unfortunately, two of the three are also USB 2.0-only.
The littlest Little Disk houses a 1.3-inch Samsung drive, is available in 30GB ($129.99) and 40GB ($159.99) versions, and, like its siblings, hides its USB cable inside its case. One step up is the 1.8-inch version, which currently is available only in a 60GB ($139.99) version, although a LaCie spokesmodel told me that a 30GB version is in the works. The 2.5-inch version comes both in a USB-only version (80GB, 120GB, 160GB, 250GB, or 320GB; $79.99 to $189.99) and a USB-plus-FireWire-400 version (120GB, 160GB, 250GB, or 320GB; $129.99 to $239.99). If you enjoy the frisson of finding a lovely objet d'art in your travel bag, check out the Little Disk line.
Iomega, for its part, may win the Month Python "I'm not dead yet!" Award, seeing as how it has reinvented itself and hung on since the nosedive of the Zip and Jaz lines. In fact, with its line of eGo drives, it seems to have come up with a classy contender.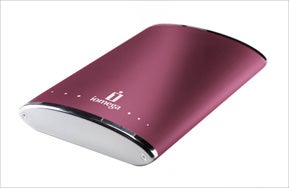 Launched last year as USB-only in 160GB and 250GB versions ($132.95 and $199.45), the eGo line was upgraded this week with the addition of a dual-interface USB 2.0 and FireWire 400 model in 160GB and 250GB versions ($151.95 and $218.45). Each eGo is bus-powered, and features a high degree of shock protection that makes it—according to an Iomega spokesdude, able to survive drops from 51 inches, far higher than most other portable drives. The eGo is a looker, as well; the USB-only model is available in red, black, blue, pink, and silver; and the dual-interface model in red, black, and white.
Iomega was also showing its soon-to-hit-its-website 1.5TB UltraMax Pro drive, which houses two 750GB drives (each removable) and which supports RAID 0, 1, or JBOD. (JBOD, by the way, is an acronym for "just a bunch of disks." Seriously.) The UltraMax Pro has a triple interface—that is, USB 2.0, FireWire 400, and FireWire 800, unlike its cousin, the single-drive UltraMax which adds an eSATA port to the mix. And, no, Iomega doesn't bundle an eSATA host card—that part of the deal is up to you.
Speaking of small and attractive stuff, Sonnet Technologies goes one better with the Sonnet Fusion F2, a portable 640GB SATA RAID storage system ($895) that's small, attractive, and fast. Inside an aluminum case that's a mere 5.9-by-6.2-by-0.72 inches are two 320GB, 5,400 RPM, 2.5-inch drives that can be configured in either RAID 0 or 1 modes, then connected to your MacBook Pro's Express/34 port over two eSATA cables to Sonnet's Tempo SATA Express 34 eSATA card.
With throughput claimed to be "up to" 128MB/sec, the Fusion 2 may very well be a killer way for traveling video editors to work with a couple of compressed HD video streams while on the move. And making the Fusion 2 more moveable is the fact that it's bus-powered—although that bus has to be your MacBook's FireWire bus. (A power cable is included.) But don't worry; if you have a Fusion 2, you won't be needing that FireWire port, anyway.
Because of the impending wide release of a 500GB 2.5-inch drive from Hitachi, the Fusion 2 will soon bump up to 1TB in capacity. Also benefitting from Hitachi's new drive will be G Technology (which was bought by Fabrik this Tuesday). Its triple-interface G-Drive mini will hop up to 500GB in March, and its G-RAID mini, which currently maxes out at 640GB, will swell to 1TB model. Both of these drives are bus-powered and have unusually solid construction and great heat dissipation—heat being the sworn enemy of every right-thinking hard drive vendor.
Speaking of heat, Newer Technology has a novel solution: Don't put your drive in a case at all. Instead, snap on a USB 2.0 Universal Drive Adapter ($29.95) to a bare 3.5-inch SATA or 2.5- and 3.5-inch IDE/ATA (PATA) drive, and slip that drive into one of Newer's silicone ProtectaDrive sleeves to turn any bare, swapped-out hard drive you have lying around into a protected external drive. The ProtectaDrive sleeves are available for 3.5-inch ($9.95) and 2.5-inch drives ($7.95).
A company that I confess to not having known of before the Expo, SansDigital, brought some interesting news concerning RAID controllers. They use Silicon Image chipsets to manage its hardware RAID controllers in its desktop drives—okay, so that's not so earth-shattering. What is interesting, however, is that the Silicon Image SteelVine chipset it uses has a new feature set called SAFE33 and SAFE50, which allows you to mirror 33 or 50 percent of a drive, leaving the rest of the drive free for whatever else you might want to use it for. That was news to me. I need to get out more.
SansDigital will be using this new chipset in its upcoming MobileSTOR MS2UT+ and MobileSTOR MS2UTN+ dual-drive RAIDs, both with eSATA and USB 2.0 connections. Why the N in one drive's name and not the other? According to the SansDigital spokesengineer with whom I spoke, the only difference between the two drives is that while the MS2UT+ has a full alphanumeric LCD status display, the MS2UTN+ has just LED indicators. Apparently the N stands for "No LCD."
SansDigital is also moving from ARM processors to Intel Xscale core processors to increase the performance of its RAID controllers—and it's not alone in its affection for that Intel chip. CalDigit uses an Xscale core processor in its new CalDigit RAID Card. At a mere $549, this card—on paper at least—gives Apple's $800 RAID card, designed for the Mac Pro, a run for its mo' money. For one, it supports up to 16 drives compared to Apple's four—four internally RAIDed plus 12 externally RAIDed. It supports RAID 0, 1, 5, 6, 50, 60, and JBOD; Apple skips RAID 6. The CalDigit spokesinnovator with whom I spoke claimed that the company's card can sustain 500MB/sec transfer rates. It also has the usual RAID-card features, such as 256MB of RAID cache and a 72-hour backup battery.
Another interesting offering from CalDigit was its eight-drive HDOne RAID, the new little brother to the company's more-expensive (and more capable) HDPro. The no-frills HDOne is designed for those of us who'd love to have high-speed RAID performance (a claimed 400MB/sec in RAID 5 mode, in this case), but who don't have deep pockets and whose older G5 machines may still have PCI-X slots, and not the Mac Pro's PCI Express slots. The HDOne goes without expandable memory (it has a fixed 256MB) and is not hot-swappable, but in return for foregoing those niceties, you get an eight-drive, 2TB speed demon for just $2,299. Compare that to the $3,999 for the HDPor, and the lack of hot-swapability doesn't look all that bad.
Moving further up—way further up—the storage food chain, I visited the ATTO booth. This maker of seriously high-end equipment was showing its new line of SAS (serial attached SCSSI) RAID controllers and host adapters. Before you read on, be forewarned: As the ATTO spokesmagician explained, "We only play at the high end of the market." One of ATTO's claims to fame—aside from top performance—is that it has engineered its RAID controllers in such a way so that if a drive fails, you can swap it out and continue to work at still-blazing speed while the array rebuilds itself.
If you want to take a look at some of the offerings at this level of performance, check out the company's new ExpressSAS RAID R380 Adapter, an eight-lane PCI Express card with eight external ports running at 3Gb/sec per port, and with SAS, SATA, SATA II connectivity; and the ExpressSAS RAID R380 Adapter, with the same specs except that you can select whether you want those eight ports to be four internal and four external, or all eight internal. For those of you who might care, know that although these two cards are PCI Express 2.0 "compliant," they're not able to take advantage of all that 2.0 speed; expect that improvement to arrive in mid-April, according to the aforementioned ATTO rep.
ATTO was also showing off its FastStream Storage Appliance family. These devices are "storage control heads" that you can put in front of either RAID arrays or JBODs, thus aggregating all the performance you put behind them, and delivering it as one really, really fast and capacious RAID system. If you understand the aggregation concept, you know how powerful this can be. For example, HP's StorageWorks Arrays are built around ATTO's FastStream Storage Appliances—HP, in fact, displayed a 720TB StorageWorks Array in its booth. If you don't quite follow all this deep geekitude, don't sweat it for a nanosecond—you're never going to connect one of these "appliances" to your home Mac. For one thing, they run between &8,000 and $15,000 dollars per.
Finally—just because sheer excess is so much fun—let me leave you with one final monster system: the aptly named SATABeast Xi from Nexsan. (Macworld Lab director James Galbraith looked at this same product in our Expo Notes blog.)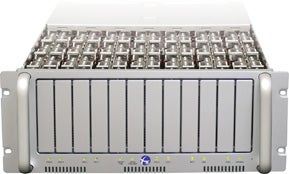 What makes the Beast (pictured right) a beast? Well, it's a rack-mounted RAID array in an enclosure (that some would call an homage to the Xserve and others would call a blatant rip-off) that houses an insane 42TB of storage. Gnarly bits: It has dual RAID controllers; dual 4Gb/sec Fibre Channel and dual iSCSI ports per controller; two redundant 760W power supplies; supports RAID 0, 1, 1+0, 4, 5, and 6 and can support multiple RAID sets and multiple volumes per set; all its drives, controllers, and power supplies are hot-swappable; and the Nexsan spokesbrainiac with whom I spoke claimed that it's throughput is in the 800MB/sec range. Oh, and he also said that its price is "under $50,000;" might that mean $49,999.99?
Seriously, though, all the high-end storage offerings at this year's Expo prove what we all already knew: That the Mac is well-entrenched in the high end of the content-creation market, and that there are plenty of folks making plenty of money off of plenty of people who are willing to pay plenty for plenty of power.
Tune in at the end of Friday when the tone of the Expo Daily Roundup will be decidedly less geeky. We're talking cute microphones, nifty iPod boom-boxes, sexy iPhone gear, and more—a selection of some of the more interesting gadgets that I found on the Expo floor. Like you, after Thursday's geekfest I just want to relax. After all, it's the last day of the show.
[Rik Myslewski has been writing about the Mac since 1989. He has been editor in chief of MacAddict (now Mac|Life), executive editor of MacUser and director of MacUser Labs, and executive producer of Macworld Live.]