Editor's Note: All this week, Macworld editors will report from the Macworld Expo show floor on meetings with Mac developers, new product announcements, and anything else that catches their eye.
While visiting the AM Americas booth Friday, I was intrigued by its line of screen and keyboard cleaners. How interesting can cleaners be? Fairly interesting, as it turns out.
But first, a bit about the company. New to America, AM has been in business in Denmark for a number of years, and its business is built around cleaning products. However, in Denmark, design is such an important aspect of products that not even something as simple as screen and keyboard cleaner can be marketed in a boring container.
And that's what first drew me to the AM Americas booth—the containers are far from traditional; the design of its products is truly eye-catching. Available in a number of shapes and colors, the designs are both functional and pleasing to the eye. Both the screen and keyboard cleaner contain a spray bottle and wiping mechanism in one unit, with different types of solution for each—the keyboard solution is both a cleaner and a disinfectant, to help wipe out the germs on your keyboard as it cleans it.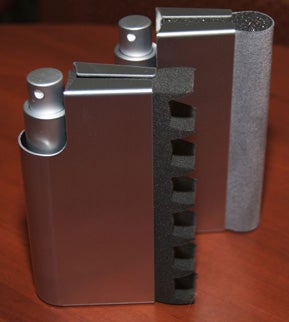 AM Americas provided me with the aluminum case version of both the keyboard and screen cleaner. Back in my hotel room, I put them to the test on my show-floor-weary MacBook Pro. Using both products is simple—squirt once or twice onto the surface to be cleaned, then wipe clean with the soft-cloth or foam cleaning pad on the product. While this is far from a full test, I can report that it seemed to work fine on both my screen (all fingerprints gone) and keyboard. The real test, though, will be when I get back home and can use the keyboard cleaner on my all-white dirt-magnet Apple wireless keyboard—the silver keyboard of the MacBook Pro hides the dirt fairly well.
One unique aspect of the keyboard cleaner is that the foam wiping pad is reversible. The pad has deep teeth, designed to clean up the edges of keys on keyboards of traditional depth. But what about portables, such as my MacBook Pro, or the even-flatter new Apple keyboards on the MacBooks, and that are sold as standalone products? If you pull the foam pad out of the container and flip it over, the other side has teeth of very modest depth, allowing the cleaning pad to slide easily on these types of keyboards.
At present, distribution of the product in the USA is just getting started—I found one company selling some of AM's product line here, but I have no idea as to their background. However, in the next few months, you should be able to find their products in many stores, as the company is signing on a number of U.S. distributors.