The sun has set on Macworld Expo 2008, and what a week it was. For me, it started with keynote-pundit stalking, then a day of cameras and printers, then a deep-geek dive into storage stuff, and finally—in this installment—a Friday of fun: speakers, docks, FM tuners, and other iPod gadgetry; and then a top-quality laptop microphone, a tricky lens for my digital SLR, and more.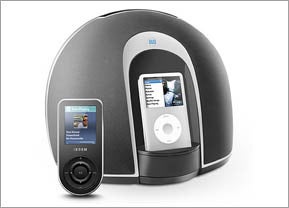 With, oh, about an Avogadro's Number of iPod speaker systems glutting planet Earth, it takes a lot to make one stand out from the crowd. However, the iBoom JukeBox from DLO manages to do just that. Sure, it has a fine-sounding set of pipes (though not as fine as my personal affordable fave, the Polk Audio miDock 10M), but those dual 1-inch tweeters and dual 3-inch woofers aren't its most-impressive feature.
That'd be its remote, a two-way RF wonder that not only controls the iBoom, but which receives and displays from your docked iPod all your iPod content arranged just as it is on your 'Pod. Plus, when playing the tune you've selected, displays full-color album art. Quite sweet, indeed.
A DLO spokesmarketer told me that the remote has a range of about 100 feet and should work just fine through walls and floors. The remote also attaches to the back of the iBoom for storage and charging; a docked iPod, of course, charges as well. The iBook JukeBox should ship in April or May, and for $199 it's well worth looking into.
XtremeMac already makes a number of fine iPod speaker systems, but it's not standing still. This time out the company introduced updates to two of their iPod-speaker lines: the Luna and Tango.
The Luna X2 is a sleek, curvy, black remake of the original white Luna. The Luna is the alarm clock you wished your mom had been back when you were in grade school—it'll wake you up gently, just the way you want it to. You can customize each of its two alarms to wake you with gradually ramping-up audio from your docked iPod or the Luna's AM/FM radio (four presets for each). You can even set the LED display's ramp-up from off to bright to match the audio.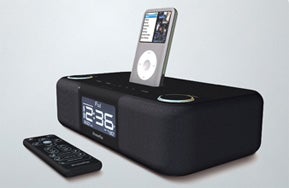 The Luna comes with a remote that's not as spiffy as the iBoom's, but it does have treble and bass controls in addition to the standard playback controls. Xtreme Mac plans to ship the Luna in March for $119.95. I currently wake up to Morning Edition, but with the election season looming, possibly the copy of Ralph Vaughn Williams's A Pastoral Symphony that lives on my iPod might start my day more gently.
Also new from Xtreme Mac was its Tango Studio, which an Xtreme Mac spokesneoligist referred to as a "room audio system"—and, at $79.95, a pretty affordable one at that. One nifty feature of the two-speaker, FM-only Tango Studio is its blue-LEDE display, which appears behind the speaker grill only when you need it, then fades away after 10 seconds. Relaxing.
The new Tango X2 is a noticeably more robust, 20W-per-channel speaker system that includes two "full-range" (not "free-range") speakers, two tweeters, and a back-ported subwoofer. It also benefits from the same LED system as the Tango Studio, and includes an AM/FM with three presets for each. At just $149.95, you can understand why Apple dumped the ill-fated $349 iPod Hi-Fi.
This spring, Creative Technology will put your video-capable iPod into a dock that'll make it—as the company's spokesshill told me—"Your total media source for all your audio and all your video." The company's Xdock HD will attach to your HDTV and take the 640-by-480 pixel video from your iPod and "upconvert" it to HD-quality video.
How? Well, the Creative rep wasn't a lot of help—he said that "there's an upconvert chip in the box," and that he "imagined" that there's some interpolation going on, but he wasn't sure. Let's assume that, yes, interpolation is the only way this magic could work.
And, to be honest, "magic" isn't far from the truth. In Creative's booth the Xdock HD was "upconverting" a 640-by-480 copy of 300 and displaying it in crisp, detailed, HD goriness on a big-screen HDTV. And that was just in the Xdock HD's current 720p iteration; by the time it ships, Creative is determined to have it pumping out 1080i HD video; it'll also interpolated stereo sound into 5.1 surround sound. Slick.
The Xdock HD has another trick up its digital sleeve: streaming audio. Along with the dock and its remote, you'll also receive a separate wireless receiver that you can place in another room. When you play audio from your docked 'Pod, that wireless receiver will pick the audio up and play it, as well. And there's no configuration needed – the Xdock HD simply streams audio by default, so when you turn the receiver on, as the song goes, " Whoomp, (There It Is)." The Xdock HD, remote, wireless receiver, and necessary cables will be available for a cool $399.
But you say you don't want to stream your audio around your house or play it through your home entertainment system? You're more into privacy? Then just pop Shure's new SE110 sound-isolating earbuds into your ears. These fine-sounding $99 'buds are the new little brother (brothers?) to Shure's classy-but-pricey line of pro-quality earbuds: the $149 SE210, $249; SE310, $349; SE420, which puts a both a woofer and tweeter in each of your ears; and the Bill Gates-level, $449 SE530, which is also available with a Push to Hear (PTH) module that has a tiny microphone in it to enable you to hear the world around you without taking the earbuds out of your ears.
Shure was also showing its new MPA-3C (music phone adapter). At one end of this 30-inch, $49.99 iPhone cable there's a male mini-plug with the proper iPhone configuration. At the other end there's a 3.5mm female jack (jane?) that contains a Shure VoicePoint microphone and a Send/End button that can answer and end calls, play and pause songs, and skip to the next track. Although the MPA-3C's list price is $49.99, a Shure spokesbud told me that we could find it for $39.99 "pretty well everywhere except at the Shure Web site."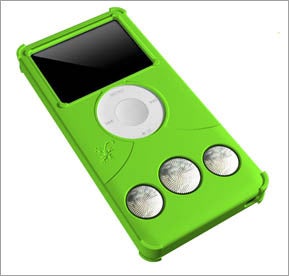 Speaking of earbuds, you can also find them doing a different sort of duty in color-crazy Audiowrapz for the third-generation iPod nano (versions for other iPods are coming later), offered by iFrogz. These silicone iPod cases have three neodymium earbud speakers embedded in them to create possibly the lowest-fi iPod speaker system I've ever heard. That said, they sounded as if they'd be great for listening to podcasts or audio books—in a quiet room. Late at night. Alone.
Although the Audiowrapz don't suck any more power from your iPod than standard earbuds, you'll still need to recharge your iPod's battery sometime, and Griffin Technology was showing a new and nifty way to keep all your 'Pods and your iPhone invigorated. The new PowerDock line has four different charging stations for any 30-pin iPod or iPhone, one with four charging slots ($69.99) and one with two ($49.99). And no, there's no audio or video out—this is just an item for the iPod-loving family or iPod-hoarding individual.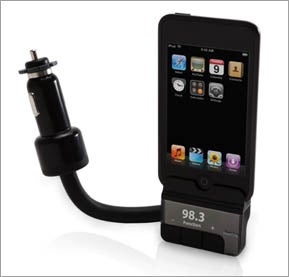 Griffin was also showing an updated pair of iPod FM transmitters for your car, the iTrip AutoPilot ($99, ships in March) and RoadTrip with SmartScan (also $99, ships in early February). The nifty part of this upgrade is what Griffin calls its SmartScan Technology, which scans the radio spectrum and finds the three strongest available frequencies and automatically saves them as presets; three buttons on the device's controllers allow you to select the frequencies you want to use.
The AutoPilot goes one step further and uses RDS technology to communicate with your car stereo and tell it to tune to the frequency you select. The RoadTrip can't do that, but—unlike the AutoPilot—it includes a gooseneck-attached cradle for your 'Pod.
Believe it or not, there were also some nifty gadgets at the Expo that had nothing whatsoever to do with the iPod or iPhone. For example, Blue Microphones' new portable Snowflake microphone. Inside the nifty folding case of the Snowflake lies the same quality microphone that's in the company's deservedly popular Snowball microphone, the only difference being that the Snowflake is limited to a cardioid recording pattern, unlike the Snowball which has an additional omnidirectional mode.
The Snowflake unfolds from its wallet-sized case (which also conveniently houses its USB cable) and hooks over your laptop's display—your on-the-road Skype calls will no longer sound like you're on the road to perdition. The Snowflakes are scheduled to start falling next month at $59.99.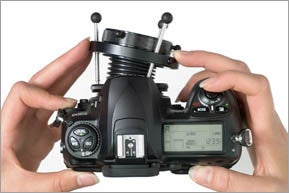 Every camera junkie (I just raised my hand) is looking for new ways to shoot in new ways—and, preferably, affordable ways, as well. The exceptionally clever folks at LensBabies are here to help with their line of selective-focus SLR lenses. What these flexible lenses do is gives you a sweet spot of focus that you can move about the image field, then gradually blur out the rest of the image. You can move the sweet spot around by flexing the lens end of the lens cylinder to angle it in relation to your camera body. Oh, hell, I won't even try to explain the effect anymore—just check out its Web site for more info.
There are three Lensbaby models. The newest 3G version ($270) allows you to lock down the angle and focus you set; once the lens is locked into place, you can then fine-focus it and minutely adjust its tilt. The previous 2.0 ($150) and Original ($96) don't allow you to lock the angle or focus—you need to hold them in position while you shoot.
All Lensbabies are mount-specific: There's a Canon version for Canons, a Nikon version for Nikons, and so on. There are currently six different mounts for the 3G and 11 different mounts for the 2.0 and Original. There are also two medium-format mounts for the 3G, one for the Mamiya 645 and one for the Pentax 67. There's even a PL-mount Lensbaby—the 3GPL ($490)—for movie cameras.
Changing the aperture of a Lensbaby is a manual procedure—the aperture discs drop into the front of the lens like Waterhouse stops. On the 3G and 2.0, the aperture discs are magnetic and are removed with a supplied tool; on the Original they're held into place by a small rubber gasket. If you shoot wide-open, you're going to get a lot of blur—which may be exactly what you want—but if you shoot at, say, f8 you'll get a large sweet spot with only a little softness around the edges. Fun for the whole family, IMHO.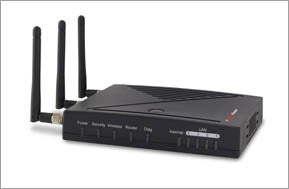 Finally, I just wanted to make a quick mention of Newer Technologies' new line of MaxPower 802.11n/g/b Wireless appliances. Yeah, they're not true gadgets, and yeah, they're more like plumbing than fun—but, hey, Newer is a tried-and-true Mac-centric company, and for those of us (I raised my hand again) who are sick of third-party networking products that ignore the Mac (are you listening, Linksys?), it's good to see a line of networking products that provide a solid, right-out-of-the-box Mac experience. Good on ya', Newer.
So that's it for this year. I hope my Moscone peregrinations provided you with a wee bit of interest and value—maybe even amusement. So, until next year, may your kernels never panic.
[Rik Myslewski has been writing about the Mac since 1989. He has been editor in chief of MacAddict (now Mac|Life), executive editor of MacUser and director of MacUser Labs, and executive producer of Macworld Live.]