Editor's Note: Macworld Expo 2008 is in the books, but Macworld editors still have a few reports from the Macworld Expo show floor on meetings with Mac developers, new product announcements, and anything else that catches their eye.
I grew up on MacPaint and I remember the thrill of seeing my creations appear on screen—even if they mainly consisted of contrasting brick patterns. But boy, do I wish I'd had Doozla, the new kid-sized drawing program from Plasq.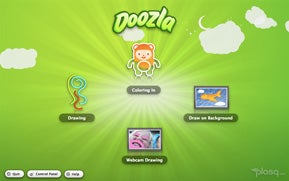 The $25 program features a very simple full-screen interface that gives kids four options for getting creative. The Coloring In button lets kids choose from cute and playful line drawings which they can then color over, add text to, and fill with paint. The Drawing button lets you freestyle your masterpiece while the Draw On A Background button lets you start with an image of clouds, a grassy hill, or another fun background.
Want to put yourself in the picture? The Webcam Drawing button lets you grab a picture using the Mac's iSight camera and then sketch over that. All paint strokes are vectors, so finished masterpieces can be printed at any size without degrading the quality. And you can use a USB tablet, if you'd prefer. The program even includes some parental controls, so you can keep the kids from using all of your printer's ink and paper while you're looking the other way.
What's most impressive is that Doozla captures the fun of playing around. The graphics and sounds are cute without being precious. And the production values are all top notch. In fact, the program is so adorable, I wanted to hug it. Thankfully, adults are allowed to use it as well.