Editor's Note: Macworld Expo 2008 is in the books, but Macworld editors still have a few reports from the Macworld Expo show floor on meetings with Mac developers, new product announcements, and anything else that catches their eye.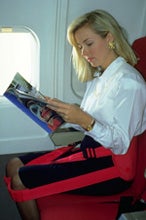 Year after year, Macworld Expo after Macworld Expo, I pass by the Nada-Chair booth. I usually stop and stare for a minute or two and watch the well-practiced booth staff practically hog-tie smiling Expo attendees with a series of straps. This year I finally decided to strap on the Nada-Chair.
The first thing you should know is that it's not a chair. It's a system of pads and adjustable belts that you cinch up to help you sit up straight when a chair with a seatback is not available. After James Knight beckoned me to sit on one of the two long benches in the booth, he quickly had me strapped snugly into a comfortable, posture-correct sitting position. It truly is comfortable and the guys are funny too—spitting out one-liners at a rapid fire pace.
Now, I'm not sure if the $75 Nada-Chair is OS X-compatible, but after a long day of walking the show floor, I was certainly in no hurry to escape the comforting embrace of that Nada-Chair.