Editor's Note: Macworld Expo 2008 is in the books, but Macworld editors still have a few reports from the Macworld Expo show floor on meetings with Mac developers, new product announcements, and anything else that catches their eye.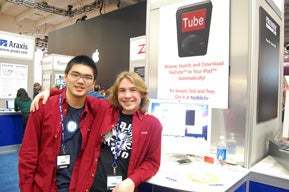 One of the more charming finds of Expo was Tooble, a sleek little program that seamlessly bridges the iPod-YouTube divide. With Tooble's iTunes-esque interface, you can easily browse You-Tube for, say, kitten videos. Once you select the kitten of your choice, Tooble will download it, covert it into an MP4, and import it into iTunes for easy uploading onto an iPod. Not exactly a revolutionary idea, sure, but what makes Tooble interesting are two things:
First of all, it's free and incredibly easy to use—no messing around, just instant kittens for the train ride home. You can download and convert multiple files at once with one click. There are no work-arounds or thought required—just a click and a little patience.
The other interesting part is who's behind the program. Tooble's creator, Jesse Youngblood, is 17 years old. He came up with the program as part of an advanced computer science course at his Connecticut high school. Gridlock LLC stepped in to help him develop the program and now Jesse writes and maintains all of Tooble's code on his own. Another high-school senior, Alex Catullo, (who also doubles as their "Media Representative") is heading up an effort to make Tooble Windows-compatible.
It was nice to see people so excited to be at their first Macworld Expo, with their first program during its first week. I have no doubt that they'll be popping up at many more in the future.