Editor's Note: Macworld Expo 2008 is in the books, but Macworld editors still have a few reports from the Macworld Expo show floor on meetings with Mac developers, new product announcements, and anything else that catches their eye.
It takes a plan to go green. And that's what AEC Software is hoping to offer users of its project-management software.
The software maker wanted to hear from customers who used its FastTrack Schedule application to manage "green" initiatives—projects with an environmental bent. So it held a just-concluded contest asking for users to share their stories. (The winner will be announced later this month.)
What AEC has learned thus far is that green projects touch on a number of industries, says vice president of marketing Ryan Kish. The company has heard from people in the entertainment business who are working on coming up with more environmentally-friendly packaging for DVDs, CDs and the like as well construction businesses that are developing "green" buildings.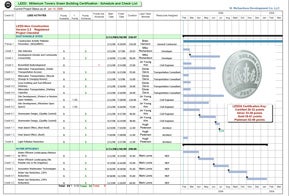 AEC is offering its own assistance, in the form of FastTrack templates that users can download. One of the green project templates from AEC measures LEED Green Building Certification, the U.S. Green Building Council's benchmark for designing and building high-performance green buildings. Another template manages the implementation of a corporate recycling program. The templates take typical project-management elements, such as gauging progress and measuring return on investment, and put them in a green context.
"What we're trying to do is offer up these templates that can be downloaded, shared, and modified," Kish said at last week's Macworld Expo. "We're hoping customers will, in turn, share what they've done with us."
FastTrack Schedule is now at version 9.2, which AEC says offers compatibility with OS X 10.5.