Apple sold 2.3 million Macs and 22.1 million iPods during the holiday shopping season, helping the company turn a $1.58-billion profit during its fiscal first quarter. The Mac totals mark the third consecutive quarter that Apple has set a quarterly sales record for its desktops and laptops.
For the quarter ended December 31, Apple reported a profit of $1.76 a share on revenue of $9.6 billion. Earnings per share rose 54 percent over the year-ago quarter, while revenue rose 35 percent.
Apple's quarterly earnings beat the estimates of Wall Street analysts. According to Thomson Financial, analysts expected Apple to earn $1.62 a share on sales of $9.47 billion.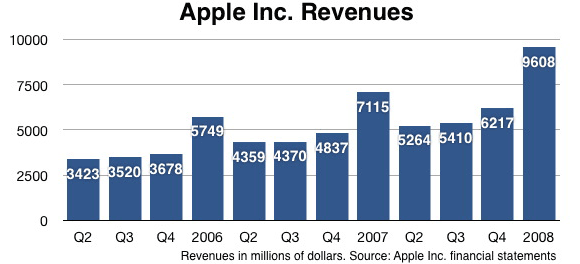 In reporting its $1.58 billion profit, Apple said it shipped 2,319,000 Macs, representing 44-percent unit growth and 47-percent revenue growth over the year-ago quarter. Sales of Mac hardware, software, and services made up 47 percent of Apple's total quarterly revenue.
Apple CFO Peter Oppenheimer described Mac sales as "very robust" with desktop sales seeing 53-percent year-over-year growth, fueled by the revamped iMacs Apple introduced in August. Sales of portable Macs rose 38 percent from the year-ago quarter.
"The Macintosh business is on fire," Apple chief operating officer Tim Cook told analysts during a conference call to discuss the company's earnings.
Apple reported $170 million in revenue from its Mac OS X 10.5 Leopard update, released in October. Oppenheimer described that figure as a "significant increase" from the $100 million in sales OS X 10.4 saw during the first quarter of its release. The company estimates that 19 percent of its installed base is already using the 10.5 update.
Apple also sold 22,121,000 iPods during the quarter, also a record. The quarterly sales figures represented 5-percent unit growth and 17-percent revenue growth over the 2007 first quarter.
Those iPod sales represented the first full quarter of sales since Apple overhauled its iPod line in September, introducing a video-capable iPod nano, the high-capacity iPod classic, and the brand-new iPod touch. Apple says the iPod's market share remained consistent from a year ago.
Oppenheimer suggested that despite slowing growth in iPod sales, Apple's technical advancement of the iPod product line will keep stoking product demand. "We believe one of the iPod's future directions is to become the first mainstream Wi-Fi mobile platform," Oppenheimer said.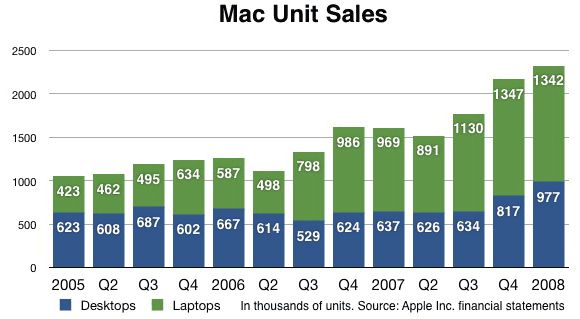 Quarterly iPhone sales were 2,315,000 units. Steve Jobs said at last week's Macworld Expo keynote that the company has sold 4 million iPhones since the device launched on June 29. Oppenheimer confirmed Apple still plans to bring the iPhone to Asia in 2008 as well as introduce the phone to additional countries in Europe; besides the U.S., the iPhone currently sells in the U.K., Germany, and France.
Oppenheimer said Apple recognized total revenue of $241 million from the iPhone during the fiscal first quarter. Total deferred revenue for the iPhone was $1.4 billion, compared to $636 million at the end of the September quarter.
International sales accounted for 45 percent of the quarter's revenue, the company said.
Looking ahead to the second fiscal quarter, Oppenheimer said he expected revenue of about $6.8 billion and earnings per diluted share of about 94 cents. Analysts had predicted Apple would report earnings of $1.09 per share on revenue of $6.98 billion for the second quarter. Oppenheimer attributed the lowered expectations to seasonal slowdowns, though he pointed out to analysts on a conference call that Apple's projected second-quarter revenue would still be a 29-percent increase over second-quarter sales from the 2007 fiscal year.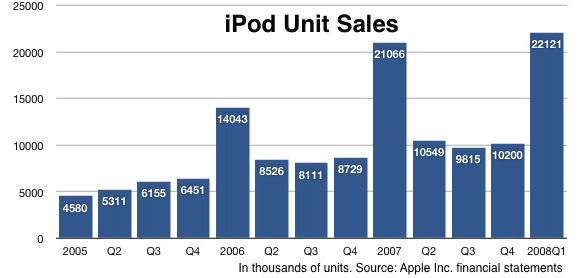 Apple's stock finished down $5.72 or 3.54 percent at $155.64. In after hours trading the stock has fallen $14.64 or 9.41 percent to $141.00.
Update: added more detailed information on the quarter's sales and profit numbers. Update 2: added more detail on Mac sales and OS X 10.5 adoption. Update 3: added more detail on iPod sales.