Last year, I wrote about a few of my favorite Web sites for creatives. And while some of those sites have dropped off my list, a few of them—CreativeTechs Quick Tips, InDesign Secrets and CreativeBits—remain on my daily visit list. To start the new year off, here a few more sites to keep them company in your browser bookmarks.
Before we get to the list, I want to encourage everyone to share the wealth. If you know of a great Web site offering design inspiration, tips, tutorials or commentary, please share with us by posting in the comments (and don't forget the link).
WebAppers
is a Web developer heaven, offering a constantly updated listing of open source development applications, add-ons and scripts for those looking to stay on the cutting edge of Web development. If that sounds too techy for you, fear not. WebAppers also offers simple things like icons, fonts, stock photos and more. (RSS feed)
Freelance Switch

Whether you are a freelance photographer, writer or graphic designer—for a living, or on the side—Freelance Switch has something you need. The site is well-written, offers a dump truck full of helpful information, and is well designed and easy to navigate. Beyond the articles, Freelance Switch offers discussion forums, a job board, and a Freelance Radio podcast. And don't forget N.C. Winters's Freelance Freedom comic strip. (RSS feed)
Smashing Magazine

Covering a wide range of Web development and design-related topics, Smashing Magazine is another one of those all-around info sites that you won't want to miss. Over the last year or so I've been introduced to some fantastic fonts, Web resources and design-related commentary that have put Smashing Magazine on my daily visit list. (RSS feed)
The Graphic Mac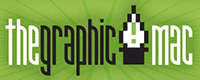 If you'll indulge me in a little shameless self-promotion, The Graphic Mac is a community-oriented Mac OS X and graphics-related site featuring everything you need from graphics tips and tutorials for Adobe apps, to Mac application reviews and forum discussion. The Graphic Mac is my site, formerly the Creative Guy blog, but I've designed it so that anyone can register and write articles, submit links to great sites & info, and participate in forum discussions, I'm hopint that it will be a great resource for creatives looking to share tips and tricks. (RSS feed)
BittBox

While it may not be immediately apparent why BittBox is on the list, move past the home page to the Freebies, Photoshop, Illustrator or Resources section, and you'll quickly see why. BittBox is loaded with free resources like high-res background images, vector art, tutorials, tips, and lots more. Another nice feature of the site is a Flickr group which shows off designers' use of the tutorials and artwork found at the site. (RSS feed)
PSDTuts

Spoon-fed Photoshop tutorials for beginners and advanced users alike is what you'll find at PSDTuts. What sets this site apart from the thousands of other Photoshop tutorial sites out there is that, while there aren't nearly as many new tutorials being added every day—which you find at other sites—the tutorials that are there are superb, well illustrated and explained, and give stunning results. For a nominal fee, you can also download the sample Photoshop files used in the tutorials. This is another one of those sites I keep a daily eye on. (RSS feed)
Ads of the World

This site has been around for a while, but I overlooked its usefulness for a while before I realized what an incredibly inspirational design resource it is. Ads of the World is sort of like an online version of the Communication Arts magazines you'll see floating around every design shop and ad agency in the world. AOW puts on display some of the most unique and creative ad agency work from around the world. While the work is all user-submitted, it must pass through a tough panel of judges in order to end up on display. Of particular interest to American designers is the visual freedom designers have in other parts of the world. Something we could only dream of, or not, as the case may be. (RSS feed)
[James Dempsey runs The Graphic Mac, which offers tips, reviews and opinion on a variety of Mac OS X and design topics.]
Note: When you purchase something after clicking links in our articles, we may earn a small commission. Read our affiliate link policy for more details.