At a Glance
Expert's Rating
Pros
Comes with backup software
Quad ports
Includes security port
Attractive price
Cons
Slow performer in certain tests
Our Verdict
While it may seem like your hard drive will always have room for all your media, at some point it's going to hit its limits. So the prudent approach is to purchase a new drive before you reach that point. With its 750GB capacity, Iomega's UltraMax provides enough space to alleviate your storage woes. And, at $304, it's very reasonably priced.
The UltraMax features a slender silver anodized aluminum case with a silver plastic stand that helps it stand vertically. A blue LED activity light sits behind the ventilation perforations on the front panel while a security port allows you to tether the unit to your work table as necessary. Besides the 750GB capacity unit we reviewed, the drive also comes in a 500GB version, as well as a 1.5TB model that uses two drives and a larger enclosure.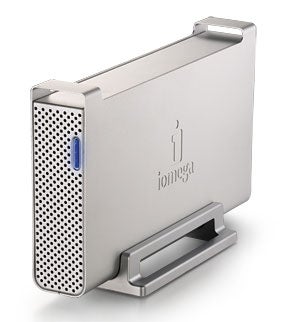 To operate the UltraMax, simply plug in the external power supply and cable the drive to your Mac using one of the four available types of ports—FireWire 400, FireWire 800, USB, or eSATA. The UltraMax comes with dual FireWire 800 ports to allow you to connect multiple devices. If you want to use the eSATA port, you'll have to purchase an eSATA PCI interface card for your Mac. All in all, we found the connector spacing on the drive's back panel to be slightly roomier than the one on the similarly styled OWC Mercury Elite AL Pro ( ).
Once you turn on the power switch, the UltraMax automatically mounts on your Mac's desktop. Unlike some other drives, Iomega's model comes formatted as HFS+, so there's no need to reformat it before using it with your Mac. It's also bundled with a copy of EMC's Retrospect Express backup software.
Performance was somewhat mixed. In our file duplication and low memory tests, the UltraMax clocked in with the slowest or next-to-slowest times among all the 750GB and 1TB drives we looked at. The drive turned in better numbers in our copy test—in fact, only OWC's Mercury Elite AL Pro outpaced it.
Timed Trials
| | |
| --- | --- |
| Copy 1GB file to FireWire 800 | 0:32 |
| Copy 1GB file to FireWire 400 | 0:42 |
| Copy 1GB file to USB 2.0 | 0:49 |
| Copy 1GB file to eSATA | 0:31 |
| Duplicate 1GB file via FireWire 800 | 0:49 |
| Duplicate 1GB file via FireWire 400 | 1:15 |
| Duplicate 1GB file via USB 2.0 | 1:28 |
| Duplicate 1GB file via eSATA | 0:43 |
| Low-memory Photoshop: FireWire 800 | 1:27 |
| Low-memory Photoshop: FireWire 400 | 1:45 |
| Low-memory Photoshop: USB 2.0 | 1:54 |
| Low-memory Photoshop: eSATA | 1:26 |
Times are in minutes:seconds
Specifications
| | |
| --- | --- |
| Price per gigabyte | 41 cents |
| Connectors | eSATA (1), FW800 (2), FW400 (1), USB 2.0 (1) |
| Rotational speed | 7200 rpm |
| Other capacities | 500GB, 1.5TB |
Macworld's buying advice
With four different types of connectors from which to choose, Iomega's UltraMax 750GB offers maximum flexibility for those who need it—and it does so at a very respectable price.
[Jeffy Milstead is a Macworld Lab alumnus and a writer living in San Francisco.]