And a shout of celebration was heard throughout the land, er, building: a MacBook Air has finally arrived at the Macworld offices. Our review unit from Apple arrived this morning, escored to the premises by a large, armored car. (Okay, it was a FedEx truck.)
As Macworld Lab Director James Galbraith began prepping the MacBook Air for testing, I was able to snatch it away for a few minutes in order to take some quick snapshots and get a brief feel for the difference between this three-pound beastie and the five-pound MacBook I usually tote around.
And so here, in a photographic style used by many of our nation's kidnappers (why, yes, I did grow up in a small town, why do you ask?), evidence that we have a MacBook in our clutches on this day, January 24. These photos were shot in an undisclosed location. Okay, okay, it was the table in my office.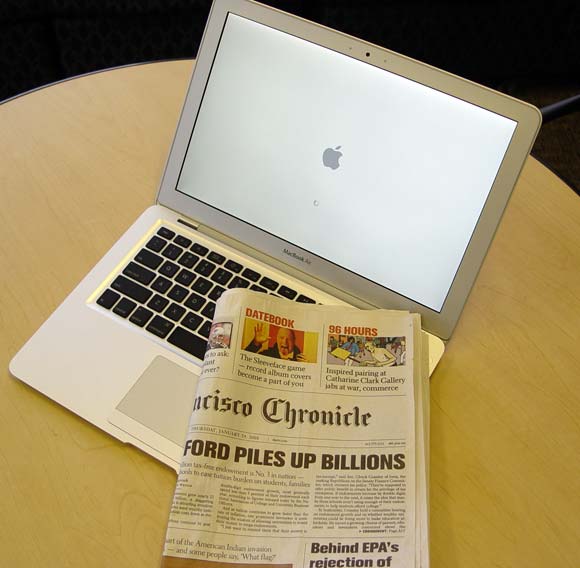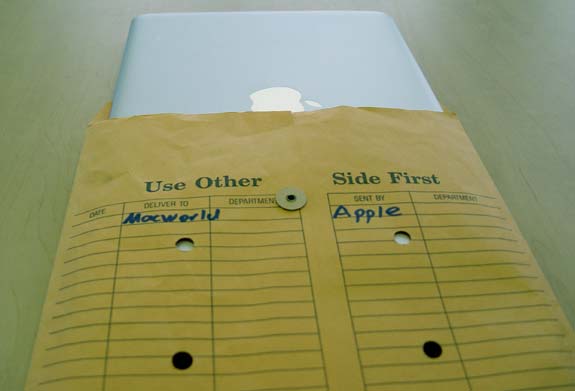 So here's where this baby goes from here. It's currently whirring away in the Macworld Lab, where we'll pound out a set of benchmark tests in the next few hours. Then, if the wind is with us, it'll go to me for some initial reactions and a full review.
Keep watching Macworld.com — and please, let us know about any questions you've got about the MacBook by posting in the comments attached to this story. I'll be reading them and keeping them in mind as I review the product.