As you may have noticed, Gadgetbox was AWOL last week. As much as I'd like to take full responsibility and say that it was completely my fault, that's simply just not true. The truth is I was being worked to the bone, forced to tramp around a crowded convention hall until I broke into tears and fled the scene. They found me hours later, curled in a fetal ball, hidden in a niche of the Crumpler Castle. So, you see, totally not my fault in the slightest.
Never fear: we're back with a special Thursday edition of everybody's favorite gadget blog—we are your favorite, right? We've got plenty in store for you, too, from a foldable cell phone, to Spider-Man's power strip of choice, to a hard drive enclosure for the truly paranoid.
This cell phone folds like a bad poker player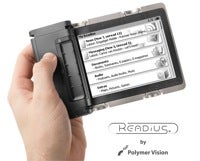 I thought we'd mentioned the Readius concept cell phone a while back, but I could find no record of it in a painstsking search of the official Gadgetbox archives (er, rhymes with Schmoogle). Had I written about it before, in some parallel dimension, I think I almost certainly would have thrown out an ill-advised reference to Earth: Final Conflict. You never saw it? They had these foldable…screen…
Never mind.
The Readius, developed by Philips spin-off Polymer Vision, features a 5" foldable e-paper screen capable of displaying 16 shades of grey, similar to Amazon's Kindle. The device is intended as a combination e-book and cell phone, which might seem like a curious mix of functionality until you remember that at one point, cell phones and cameras probably seemed like a weird combination too. Frankly, I say that if the British can eat—and like—beans on toast, pretty much any other combination is perfectly valid.
The foldable screen on the Readius is far and away its most interesting feature, but since it'll lack color at the outset, and won't be able to play video, it'll be interesting to see how this device fares against most average cell phones. Polymer is touting 30 hour battery life for reading, which sounds good, though I wonder how much cell phone usage will eat out of that, especially as they're using 3G HSDPA technology. Just for kicks, they've also thrown in an MP3 player for music and podcasts and support for Bluetooth 2.0 and USB 2.0—all in a package weighing in at just 115 grams.
If this device seems like vaporware, don't fret: it's going into production now and is due to ship in the middle of the year. There's no news on whether it'll make it to the US or what the price will be, though the company's CEO said it would be comparable to "a high-end mobile phone." We're thinking in the $500-$700 range.
[via DVICE]
Power strip, power strip, does whatever a power strip can…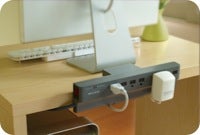 Eat your heart out, Spider-Pig; there's a new wall-crawler in town. Belkin's Clamp-On Surge Protector helps solve the eternal problem of how to your tangled forest of power cables out of the way of your feet. Technology's gotten pretty good at getting rid of wires for our technological gizmos, yet we're still tethered to our sweet, sweet electron juice.
How did the Clamp-On Surge Protector come about? A freak accident, the way I hear it: a genetically-engineered clamp bit a perfectly normal surge protector, yielding a surge protector that can clamp onto almost any surface (as long as it's not more than 2.5" thick). It boasts six outlets, including two that are spaced for large bricks and a long 10' power cord, and it comes with a $15,000 connected equipment warranty that just begs to be put to the test by connecting as much expensive gadgetry as possible.
The Clamp-On Surge Protector goes for a mere $41 which, while more expensive than nailing your existing surge protector the back of your desk, more than makes up for it when you realize that you don't own a hammer or nails.
[via OhGizmo!]
Where safe means easily-stolen keys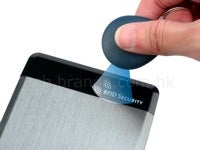 Are you a security-conscious computer user? Failing that, are you a conscious computer user? In one of our CES installments, I pointed you towards the Data Locker Secure drives, a hard-drive enclosure that incorporates a numeric pad for entering a PIN code. No code, no data. The PICO E08 RFID Security enclosure offers another potential solution, but instead of a code that you have to remember, it gives you an RFID-based key that you need to not lose (two, in fact, just in case you want to share your confidential information with a friend or loved one).
How does it work? Just hit the key and it'll automatically encrypt the data on your hard drive with a complex hardware-based cipher (where A=1, B=2, etc.). Someone else tries to unplug it and attach it to their own computer, they'll just see a brand new empty drive. Suckers. Unless, of course, they steal the key too. Whoops.
The $56 enclosure, which takes any 2.5" SATA drive and connects via USB 2.0, is compatible with OS X, but you'll need to use "MS-DOS" format, which isn't really ideal. But hey, it comes with a leather carrying case, so that makes up for it, right?
Also, the key doesn't make that crazy blue light. I know, I know: I was disappointed too.
[via Red Ferret]
That's it for this week, folks. We ought to be back next at our usual gadget-o'clock of Wednesday. See you then.