Editor's Note: The following article is reprinted from the Today@PC World blog at PCWorld.com.
Continuing the pre-PMA camera announcement barrage, Canon unveiled a quartet of new point-and-shoot PowerShot cameras for 2008. The new cameras include updates to Canon's fashion-minded Digital Elph line, as well as three new additions to the solid and popular PowerShot A line.
The new Elph is the PowerShot SD1100 IS, an ultracompact 8-megapixel camera available in five colors: brown, pink, blue, gold, and silver. The SD1100 is the successor to last year's SD1000 Digital Elph, adding optical image stabilization to its 3x optical zoom lens.
The SD1100 IS has a Digic III image processor, 18 shooting modes, face-detection for up to nine people per photo, and lets the shooter select a single face in the crowd to keep in focus. It's slated for release in March for $250.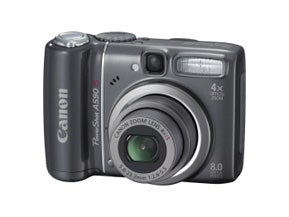 New additions to the boxier PowerShot A series include the 8-megapixel PowerShot A590 IS and PowerShot A580, as well as the 7.1-megapixel PowerShot A470.
The PowerShot A590 IS ($180, available in March) offers the lens-shifting optical image stabilization found in the new Elph, 19 shooting modes including a fully manual mode, and 4x optical zoom.
The A590 IS also lets the users attach converter lenses to the camera's zoom lens with an adapter, which is sold separately.
The 8-megapixel A580 ($150, available in March) doesn't have the optical image stabilization of the A590 IS, but does have the same 4x optical zoom and almost as many shooting modes (16).
Both the A590 IS and A580 also offer a new feature highlighted by Canon. Easy Mode will automatically optimize the camera's settings based on light levels and shooting conditions.
The lower-end PowerShot A470 ($130, available in March) can run on two AA batteries and is available in four colors. It also offers tweakable ISO speed and white-balance settings, as well as 14 shooting modes.
All the new A-series PowerShots use the Digic III image processor, face detection, red-eye reduction, motion detection, and anti-blur technology.