It's been a busy month so far, between last week's Macworld Expo and preparations for next week's PMA show in Las Vegas. (I'll be in Vegas for the show, and be posting updates from the field; if you're going to be there, drop me a line.)
While all this is going on, I've been keeping track of a bunch of cool things on the Web. Here are a few choice, creative-minded items that I think are worth a click:
Font stars of 2007
For typoholics everywhere, FontShop has an intriguing new CD called FontStars 2007, a $599 collection of 29 OpenType fonts from 14 foundries. There aren't any cheesy knock-offs in this $599 set; if you don't believe me, check out the PDF spec sheet.
VectorMagic
Converting bitmap images to vector art is one of those technologies that software engineers have been struggling to perfect since the dawn of the Mac. I know designers who keep old Macs alive just so they can use Adobe Streamline, believing that it offers better bitmap-to-vector conversion than Illustrator's Live Trace feature (which I don't buy, btw).
Two researchers at Stanford University's Artificial Intelligence Laboratory have set up VectorMagic, a Web-based utility for converting pixel-based images to vectors. You upload your images—in JPG, BMP, PNG, GIF or TIF formats—and it processes them using a proprietary algorithm. The site is surprisingly simple to use, and the results I've seen are amazing. If vectorization interests you, go play around with it. (The researchers claim that, "Your images are kept securely on our servers. Only you and the people you choose have access to them.")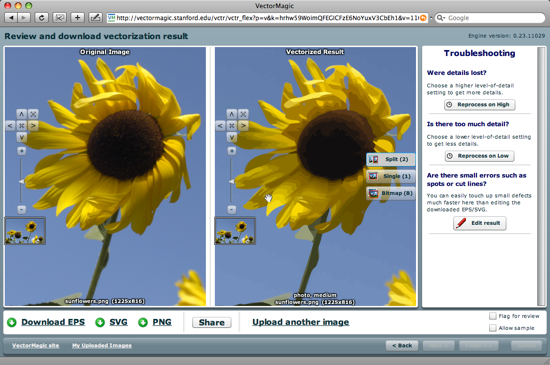 Lightroom and Aperture, redux.
There was a lot of back-channel buzz at Macworld Expo about an Aperture 2.0 announcement at PMA. An update to the Apple app makes sense, and is about due. On the other hand, no one seems to be expecting an update to Adobe's Lightroom, but I'm sure the Lightroom team is looking at Scott Kelby's " What I'd love to see in Lightroom 2.0." Scott, as always, is spot-on in his assessment; I know I'd like to see a bunch of these features added to Lightroom.
Veerle's vintage Photoshop effects (and more)
Veerle Pieters is one of the coolest designers blogging on the Web. Her stuff ranges from illustration to Web design and everything in between. This week, she posted a tutorial for using Photoshop to create a vintage effect for your photos. And while you're tooling around her blog, check out her tutorials section—there's a lot of good stuff right there. (And, if you're interested in the bitmap-to-vector technology mentioned above, check out her post on using Illustrator's Live Trace.)
The Creative Digital Darkroom
One of the things I love most about Macworld Expo is the book vendors' booths. Despite the riches on the Web, I still love a well-written technical book. I bought a few books from Peachpit, Wiley and O'Reilly at the show, but the one that I absolutely love is Katrin Eismann and Seán Duggan's The Creative Digital Darkroom (O'Reilly). This beautiful 400-page book is designed for digital photographers using either Photoshop or Lightroom, and covers everything from workflow to sharpening, color correction and more. I've always loved Katrin's stuff, and this book is no exception: I've had it in my bag for a week and I can't put it down.
The Story on the Rebel XSi
Derrick Story offers up his quick take on Canon's Rebel XSi, a 12.2-megapixel update to Canon's low-end D-SLR line. At $800, the XSi has a bunch of interesting features, but Derrick rightly wonders how well the small sensor will handle noise. (In related news, Canon also announced four new Powershot cameras, including a 7.1-megapixel model priced at $130.)
B8850 first look posted
I'll close with a bit of shameless self-promotion: Over on Printerville, I've posted a first look of HP's forthcoming Photosmart Pro B8850. The lower-priced ($549) sibling to the Photosmart Pro B9180 ( ) looks like it will be a barn burner when it ships this spring, and will be worthy competition to Epson's much-anticipated Stylus Photo R1900, which is also priced at $550 and should ship in the same time period.
[Rick LePage is Macworld's editor at large, and editor of Printerville, a site dedicated to photo printing.]