One of the oddities of the MacBook Air is, as a system without a FireWire port, an optical drive, or an accessible hard drive, the act of reinstalling Mac OS X and migrating your files from your old system to this new one is more complicated than it has been in the past.
Without FireWire there's no "target mode," a feature that lets you mount a laptop's drive on another Mac as if it were an external hard drive. It's a feature that's been around for a long time (dating back to a SCSI version on old PowerBooks), and it's a convenient way to migrate files on and off of laptops, but the MacBook Air just won't do it. (And no, sadly, there's no USB equivalent.)
But Apple has taken the MacBook Air's release as an opportunity to upgrade its Migration Assistant — which previously focused on transferring files via FireWire — and other software in order to make life easier for MacBook Air users and, presumably, other Mac users via some future software update.
Upon taking possession of the MacBook Air I'm using as a part of my forthcoming review, I knew that a lengthy migration task lay ahead of me. First off, I had to wipe the drive and reinstall Mac OS X, because the system had previously been speed-tested by Macworld Lab and was therefore full of all the test files that we use to generate those test results. I wanted to start fresh.
I reinstalled Mac OS X via the $99 SuperDrive add-on unit for the MacBook Air, although the MacBook Air can also install its software over a network (either Ethernet via its USB adapter or Wi-Fi) from a Mac or PC on your network running Apple's new Remote Disc software.
As soon as the installation was finished, it was time to make the migration from my old MacBook. But my MacBook Air was providing me with a message I hadn't seen before: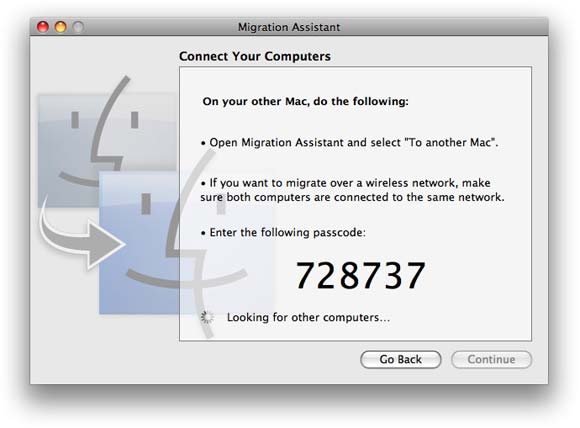 I inserted the MacBook Air's installation DVD into my MacBook and installed Remote Disc, which also installed an updated version of Migration Assistant. Once that was done, I ran Migration Assistant and chose "To another Mac," as requested.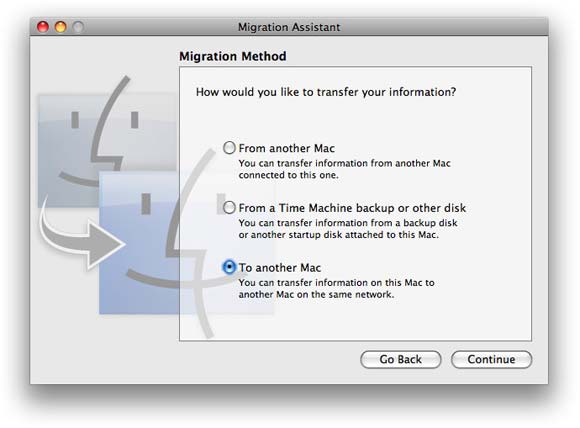 After clicking Continue, I was prompted, Apple TV-iTunes style, to enter in the six-digit passcode from my MacBook Air's migration assistant. At that point, both systems linked up and I was able to set my files to transfer as usual. (I used an Ethernet cable and the MacBook Air's Ethernet adapter for the transfer, figuring it'd be faster than Wi-Fi. Then I went to bed.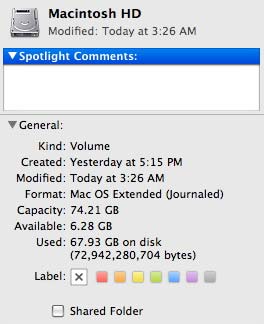 At three in the morning I woke up and wandered into my living room, where the two computers had finished their data transfer. After a quick reboot, the MacBook Air was up and running with all of my files intact. And the best news of all, after the crash diet I put my hard drive through last week, I managed to come in with plenty of free space to spare.
I spent the weekend with the MacBook Air (and, in fact, am writing this item on it) and will have plenty more to say in the days to come. If you've got any questions about it, leave them as a comment to this story and I'll try to address them, if not here then in a future story.