If you travel with colleagues for business trips, or if your multiple-Mac family brings its laptops on vacation, getting Internet access for everyone can be an exercise in configuration frustration.
You could hunt down Wi-Fi hotspots. But they're usually tied to a specific location, they can be pricey for a group, and they can be security nightmares.
You could also get cellular data access. But such access requires connecting one Mac, either with a special adapter or via a data-ready cell phone, and then sharing that access with the rest, which can be both slow and a pain to set up.
There is an alternative: a cellular router. This portable device is designed to make a cellular data connection, and then to share that connection among a group of computers. To make this setup work, you need three things: a data account on a cellular network, a cellular router, and an adapter that will connect the two.
Cellular data service
For high-speed data, Sprint Nextel's and Verizon Wireless's networks both adhere to the EVDO (Evolution Data-Only) standard; more specifically, both companies are using EVDO Rev. A, a faster upgrade of the earlier EVDO Rev. 0. AT&T uses HSPA (High-Speed Packet Access). Both technologies offer download speeds in the range of several hundred Kbps downstream, with burst rates of 2 Mbps or more. T-Mobile offers only EDGE (Enhanced Data rates for Global Evolution) service, which runs at about 100 to 200 Kbps downstream. (The iPhone uses AT&T's EDGE network.)
Both Sprint and Verizon offer EVDO nationally, while AT&T's HSPA service is available only in parts of the United States. But none of these providers offer these high-speed services coast-to-coast; the highest speeds are limited to bigger cities. Where those services aren't available, you can usually still connect to some slower form of service as long as you're within range of a cell.
AT&T, Sprint, and Verizon all charge $60 per month for unmetered access to their highest-speed networks, although that requires a two-year contract and may require a voice plan. (Unmetered means that you don't pay by the byte, but the company might cut you off if you exceed a certain level of usage.) T-Mobile offers unlimited EDGE for $20 per month with a voice plan.
Because AT&T's network still isn't truly nationwide, your best choices for shared mobile access are Sprint and Verizon. Of the two, Verizon has consistently stated that shared use of its cell network, or use of it as a fixed broadband replacement, violates the terms of service. That leaves Sprint as the default choice for mobile sharing.
Cellular adapters
Whichever carrier you choose, it'll offer to sell you a compatible adapter card at the same time. If you'd rather buy an EVDO adapter on your own, get one that handles EVDO Rev. A. In real-world use, an EVDO Rev. A-speed network may not always be available; when that happens, Rev. A adapters can drop down to the slower EVDO Rev. 0 standard and even to the modem-speed RTT (Radio Transmission Technology), which is usually available wherever there's a voice signal of any kind. If you're using an HSPA network, those cards typically also support the slower UMTS (Universal Mobile Telecommunications Service) and EDGE standards; some can also connect to the modem-speed GPRS (General Packet Radio Service).
Cellular routers require PC Card adapters; Express/34 cards will work in your MacBook Pro but not yet in these routers. PC Cards typically cost as little as nothing to $100 with a two-year contract and rebates, and $50 to $300 without those options.
Whichever card you choose, it has to be activated before you can use it. Depending on the card and operator, this may require a PC laptop. While two major card makers, Novatel Wireless and Sierra Wireless, offer connection software for Mac OS X, it's up to the carrier selling the card to provide activation software. Verizon Wireless offers Mac OS X- supported cards and software; the other carriers don't. A reseller may be willing to activate the card before shipping it to you.
Cellular Routers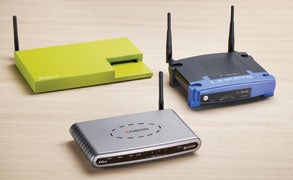 Next, you need to choose a cellular router. Sprint resells equipment from Junxion, Kyocera, and Linksys; AT&T resells Junxion gear as well. For the purposes of this story, I tested the Junxion Box JB-110b ($699), the Kyocera KR1 Mobile Router ($199), and the Linksys WRT54G3G Wireless-G Router ($250).
All three have been on the market for a year or more and are generally friendly with OS X. All three have a PC Card slot into which you insert your cellular adapter. The Junxion and Linksys boxes can work with either EVDO or HSPA networks. The Kyocera and Linksys units have four Ethernet jacks and built-in 802.11g wireless networking; the Junxion has two Ethernet jacks and 802.11b. (At press time, the company had upgraded its hardware to 802.11g.) The metal Junxion Box appears to be the most rugged; the Linksys and Kyocera are made out of perfectly fine plastic, but it's hard to know how well they would fare after a few road trips.
The Junxion and Kyocera boxes primarily specialize in cellular routing; the Linksys unit is more like a full-featured Wi-Fi gateway with cell-routing capabilities grafted on. And note that Kyocera announced a more advanced version of the KR1—the KR2, appropriately enough—for 2008, which will include 802.11n for local wireless networking, as well as ExpressCard support. (Pricing is not yet set.)
Setting up your mobile network
After you insert an activated PC Card adapter and power up the router, each router sets up a default Wi-Fi network and a default cell connection if possible. You can change all of these starting settings, and you can configure all three devices via a Web browser.
Kyocera's router is the simplest to set up, as it includes a Web-based wizard that asks the right questions and makes suggestions at several points that improve the router's security.
Junxion offers a cleanly designed set of configuration screens. Because it's designed to be managed by IT professionals, some of those screens require a degree of technical sophistication. And because it's designed for management from a central location (hence its higher price), the Junxion box can (with the right PC Card) report back to that central administrator its current location using GPS satellite coordinates.
Anyone who has used Linksys gear before will recognize the overabundance of tabs and options in its router's interface. Nonetheless, if you ignore the clutter, you can set basic features, such as network name, Wi-Fi channel, and security options, quite simply.
Each of these routers offers some assistance for optimizing location by providing signal-strength indicators for the cell network, either on the front panel or in a Web interface. As you might expect, the devices will pick up the strongest signal indoors near those windows with the clearest line of sight, and outdoors in areas free of obstructions.
Whichever router you choose and wherever you choose to use it, once you've set it up, everyone in your traveling party should be able to see and select it in their AirPort menu—and hence get online pretty much anywhere there's a cellular signal.
Glenn Fleishman is the author of Take Control of Your 802.11n AirPort Extreme Network ( TidBits Publishing, 2007).]