From October to December 2007, Apple sold more iPods than in any quarter since the introduction of the mobile music player six years earlier. Record quarterly sales of 22.1 million iPods helped Apple tally $9.6 billion in revenue and a $1.5-billion profit for its fiscal first quarter.
And financial analysts and media reacted by clobbering Apple's stock, partly because Apple offered projections for its second-quarter performance that were below what Wall Street was anticipating but also because the record iPod sales failed to meet expectations. Headlines proclaimed that sales of the music player were a warning bell for investors, that the shine was off the company , and that iPod sales totals were plodding.
What gives? The disparity between Apple's reported iPod sales and the strong reaction to them boils down to what aspect of the iPod results you're looking at.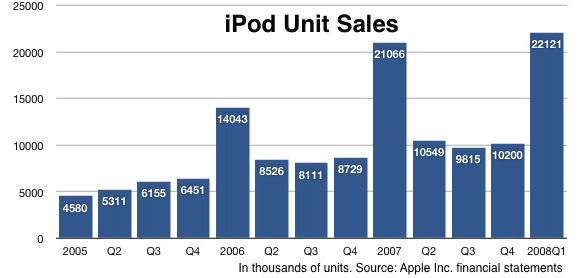 As is readily apparent from glancing at a chart showing the number of iPods sold, unit sales have never been higher. "Apple's results are actually quite good compared to the rest of the category," said Ross Rubin, director of analysis at market research firm NPD Group. Apple moved more than 22 million iPods last quarter, keeping the company lodged securely in first place in the digital music player market in December with a share of 67 percent, according to NPD.
All about the growth
But what the analysts and the media were reacting to was a lack of growth in iPod sales over the previous year. For the fiscal first quarter 2007, Apple sold 21 million iPods, meaning that year-over-year, the iPod unit sales grew only 5 percent—still an increase, though not the kind of robust growth Wall Street had come to expect.
Over the last few years, iPod sales numbers have shown dramatic growth, particularly in the quarter that encompasses holiday purchases. The 21 million iPods Apple sold in the 2007 first quarter was 50 percent higher than what it sold in the previous year. In the 2006 quarter, iPod sales grew 207 percent while 2005 first-quarter iPod sales shot up an astounding 525 percent from the year-ago quarter.
iPod sales are affected by a high degree of what analysts call seasonality, meaning yearly sales figures typically follow the same pattern. In the iPod's case, the highest sales peak typically comes in Apple's fiscal first quarter, which coincides with the holiday buying season. While total unit sales grew over the 2006 quarter, sale growth rate had fallen. Most analysts attribute that slowdown to market saturation: MP3 players in general, and the iPod in particular, have become so popular that the market of people looking to buy one is dwindling.
That's not the only potential reason for slowing growth in iPod sales, however. Tim Bajarin, president of consulting firm Creative Strategies, thinks the strained economy could also clamp down on iPod sales growth.
"In the holiday quarter, consumers were very cautious on buying technology that's not mission critical, such as music players," he said. Many analysts were looking to Apple's results for good news about the economy and were not reassured by the lower growth rate of iPod sales.
But the holiday quarter wasn't the only one to see slower growth in the past year. For Apple's 2007 fiscal year, fourth-quarter iPod sales grew 16 percent over the previous year, third-quarter sales rose 21 percent, and second quarter figures rose 23 percent—again, all positive numbers, but in 2006 those quarterly iPod sales grew by 35 percent, 31 percent, and 60 percent, respectively. Clearly, iPod sales growth has been slowing for at least the past year and, even though the numbers of iPod sold each quarter continue to trend upwards on the whole, they're increasing more slowly than they have in the past.
Then again, slowing growth isn't really a surprise. Apple would have had its work cut out for itself if, say, it hoped to sustain that 525-percent growth of 2005's first quarter: that would have meant selling 28 million iPods in the first quarter of 2006, more than 174 million for the 2007 quarter, and an outrageous 1 billion iPods in the most recent quarter.
Keep in mind that, as of April of last year, Apple sold its 100 millionth iPod. Given the runaway success of iPod sales in the past several years, growth was bound to slow eventually; it was just a matter of when and by how much.
The touch emerges
Even as iPod unit-sales growth slows, it's hardly the end of the world for Apple. During a conference call with analysts last week, Apple Chief Financial Officer Peter Oppenheimer pointed out that the holiday season is just one of two major sales drivers for music players; the other is product launches.
Oppenheimer repeatedly stressed that Apple was concentrating on creating innovative products, and both he and Apple Chief Operating Officer Tim Cook cited the iPod touch as a specific example of how the iPod's market is bigger than just playing music and videos. According to Oppenheimer, the touch is an "entirely new type of iPod," one that Apple sees moving the iPod beyond its roots as a mere media player, becoming "the first mainstream Wi-Fi mobile platform."
Apple doesn't break out individual product lines when reporting its quarterly results, so there are no specific numbers on iPod touch sales. But the impact of the widescreen iPod first introduced last September is definitely being felt.
For one thing, Apple reported that the average selling price of an iPod in the most recent quarter was $181, the highest that number's been in the last year and a half. It's likely that the touch, available for either $299 or $399, is helping drive that.
Another sign of the touch's impact comes from the growth in revenue for Apple's iPod and music segment—up 147 percent in the fiscal first quarter from the previous quarter. That number also compares favorably to the same quarter from last year, in which the segment grew just 120 percent in revenue—another indication that the iPod touch has bolstered the iPod's bottom line.
"Consumers have been very familiar with what Apple has in the iPod line," Bajarin said. "They're waiting for the next level of innovation. There's still a market for the nano and the shuffle, but there could be greater pent-up demand for something like the touch."
Since that's the direction in which Apple clearly intends to push the iPod line, it bodes well for the continued success of the iPod segment. "The touch did quite well for a premium-priced product, particularly one with low capacity in its price range," NPD's Rubin said. "Even though the iPod is known for its media playback features, the promise of the [forthcoming Software Development Kit for the iPhone] is to turn it into a platform for future development."