At a Glance
Expert's Rating
Pros
Multiple themes
Different tracks to choose from
Game modes and difficulty levels
Cons
Wretched control scheme makes the game almost unplayable
Our Verdict
I spent many an hour in my local video game arcade as a teen plugging quarters into Pole Position. I even remember buying the game for my ColecoVision console at some point around 1984 or so. So when Namco released Pole Position Remix for the iPod on the iTunes Store, I was momentarily elated. Then I tried it, and had my hopes dashed.
Pole Position Remix—which is compatible with fifth-generation iPods, third-generation nanos, and the iPod Classic—puts you in the cockpit of an open-wheel (Formula One-style) racing car as you make your way around a variety of tracks. Your goal is to earn the race's pole position—the number one slot—by completing a lap in the allotted time. You must avoid hitting other cars on the track, stay on the track, and avoid hitting other obstacles. You can crash as much as you want, but crashing takes precious seconds off your lap time as you respawn.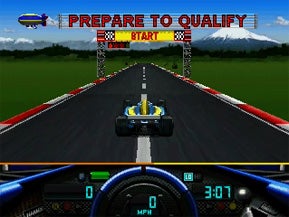 On the surface, Pole Position Remix has all the trappings of a good game—the graphics and sound effects are terrific, and they look great on the iPod. The animation is fairly fluid and smooth, and the gameplay is varied—there are a number of tracks and race types (Practice, Single Race, Grand Prix or Sudden Death). You can shift your car into low and high gears manually or automatically. There are even two skill settings—Amateur and Professional.
There are a total of five tracks to choose from: "Speedway," a simple oval ("Test," in Pole Position II); "Namco," the original "Fuji" Pole Position track; "Wonder" (resembling "Suzuka" from Pole II); "Seaside" (also from Pole II); and a new original track, "Misaki Point." You can also select from different game themes, ranging from a default Pole Position graphic style to one that makes the cars take on coloring of other Namco classic arcade games like Dig Dug, Galaga and Pac Man. It's a cute gimmick, especially the futuristic "Neopolis" race car.
All the accouterments of a good iPod game are here: You can adjust effects volume and switch game music on or off, adjust screen brightness, manage user names and switch between MPH and KPH depending on where in the world you are. You can abandon your game or save and quit them come back to it later, and view your racing stats.
But what ultimately kills Pole Position is the same thing that worked against Sega's recent release of Sonic the Hedgehog for iPod: the control scheme.
Using the iPod's Click Wheel seems like, on the surface, a perfect input scheme for a driving game. Just like a steering wheel, you move your thumb clockwise to steer right and counter clockwise to steer left. Unfortunately, there's no gas pedal or brake available on the iPod. Pole Position counts on you removing your thumb from the Click Wheel when you want to decelerate and keeping it on the Click Wheel to accelerate. If you're operating a manual transmission, you tap the Center Button to toggle between gears (helpful to control the car through hairpin turns, by the way).
This makes the game very sensitive to finger movement, and it also means you have to remove your thumb from the control surface whenever you want to modulate your speed. That action makes it really, really difficult, if not impossible, to effectively control the vehicle, especially in heavy traffic or in situations where you have to respond quickly to hazards like water on the track—which come up quickly, especially at 200 miles per hour. And trying to use two thumbs to do it is even worse.
It's frustrating, not challenging or fun, and I hate to say it, because I really really wanted to like this game. And I don't.
The bottom line
Gorgeous to look at and well-crafted on so many levels, Pole Position Remix is ultimately a disappointment because it just doesn't lend itself to an iPod Click Wheel control scheme.