Over the years, Apple periodically comes under fire for not listening to its customers—specifically, for deciding on particular features (or a lack thereof) and then sticking by its guns regardless of the reaction. Although some of this criticism is off-base, some of it is spot-on.
But Monday's release of the Mac OS X 10.5.2 Update shows that sometimes Apple does listen, and occasionally even reverses design decisions because of user feedback. Consider some of the tweaks featured in this update to Leopard.
Hierarchical Stacks
Perhaps the most controversial changes in Leopard involve the new Dock. In addition to a much-maligned 3-D appearance, the debut of Stacks in Leopard meant the removal of a popular existing feature: hierarchical Dock menus. In Panther and Tiger, you could place a folder in the Dock and then navigate that folder's contents right there in the folder's own hierarchical menu.
A couple weeks after Leopard debuted, I evaluated Stacks, covering both its benefits and its (many) flaws. I offered a few suggestions for how Apple could "fix" Stacks:
If you Control/right-click on a folder in the Dock, you currently get the option to force the stack to display as a grid or a fan; the single biggest complaint about Stacks could be remedied if an option were added for forcing the stack to display in a Tiger-like hierarchical menu….Another simple improvement would be to let the user choose—via a similar setting in a stack's options menu—a stack's Dock icon: the actual folder icon, a generic icon, or the current "determined-on-the-fly" icon.
There were other suggestions, as well, but these were the big ones. As I noted at the time, implementing these changes wouldn't affect Stacks' behavior for those who like it the way it is, but would improve it—dramatically—for those who were fans of the older Dock behavior.
So imagine my surprise when I installed 10.5.2 and found those options available in the options menu for each stack. (You can access this menu by Control-clicking or right-clicking on the stack's Dock icon.)
The List View option, shown in the above screenshot, lets you view that stack as a hierarchical menu of the folder's contents. The Folder Display option changes the stack's icon to that of the actual folder. In addition to being less confusing, the latter option also lets you use custom folder icons (such as the ones you can create using FolderBrander) to differentiate folders in the Dock.
Even better, compared to Tiger's Dock, the new List (hierarchical) view retains the Leopard-introduced ability to sort the list by name, date added, date modified, date created, or kind—meaning stacks is now more functional and useful than Tiger's Dock menus.
Unfortunately you can't set your default preferences for these settings so that all new stacks automatically exhibit your preferred behavior; you'll have to change the settings for each stack separately. Still, well done, Apple.
Non-transparent menu bar
Another controversial interface element in the initial release of Leopard was its menu bar. Unlike the solid-white menu bar found in every previous version of the Mac OS, Leopard's stock menu bar is semi-transparent, and your Desktop extends behind it—which means that the menu bar's color, texture, and readability depend on your choice of Desktop picture. I covered ways to tweak the menu bar, and we published a method on Mac OS X Hints for officially changing the look, but none of these actions were sanctioned by Apple.

In 10.5.2 you can now get rid of menu-bar transparency with a simple setting in System Preferences; specifically, the new Translucent Menu Bar checkbox in the Desktop & Screen Saver preference pane. However, note that with this option disabled, you don't actually get the old, bright-white menu bar back; instead, you get a subtle gray version. Personally, I think I just may like this gray bar better—it doesn't stand out quite as much as a white bar, but it still makes menus and menu-bar icons easy to read.
Apple also tweaked the standard menu bar slightly, so that even if you don't take advantage of the new non-translucent option, menus will be slightly-less transparent, improving visibility. All of these are simple but effective changes.
Time Machine menu-bar indicator
Finally, another set of minor interface complaints have focused on Leopard's new Time Machine backup feature. In the initial release of Leopard, there was no obvious way to tell when a backup was occurring. If you had a Finder window open, with the sidebar visible and your backup drive displayed in the sidebar, an easy-to-miss bit of animation would appear next to that drive during a backup. Or you could keep the Time Machine pane of System Preferences open; during a backup, the "Next Backup" text would change to "Backing up" and display a progress meter. (You also had to visit the preference pane to see when your last backup occurred.)
Similarly, if you wanted to start a backup manually, you had to keep Time Machine in the Dock or open a Finder window with the sidebar visible, as the Back Up Now command was available only in the contextual menu for those items.
In OS X 10.5.2, Apple has added a new Time Machine menu-bar icon that plays on the "turn back time" theme—the icon looks like a clock with a counter-clockwise, circular arrow around it. Click on this icon to reveal the date and time of the last Time Machine backup. You'll also find commands to start a backup manually, to enter Time Machine (in order to recover files), and to visit the Time Machine preference pane in System Preferences. And because this is a standard Mac OS X menu extra, you can use Keyboard & Mouse preferences to set up keyboard shortcuts for any of these commands. For example, in the image below, you can see that I've assigned a keyboard shortcut to Back Up Now; I use this if I'm about to unplug my external drive from my laptop and I want to be sure I've backed up my latest work beforehand.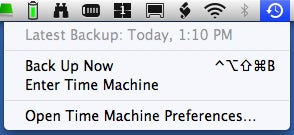 If you use multiple Time Machine drives, you might think you still need to keep Time Machine in the Dock in order to access the Browse Other Time Machine Disks feature. But the new menu includes this command, as well, even if accessing it isn't obvious: hold down the Option key and Enter Time Machine changes to Browse Other Time Machine Disks. (Thanks to Macworld forums member Gornlo for this tip.)
There's even some cute-but-useful animation: when Time Machine is executing a backup, the little clock's hands, and the circular arrow, turn backwards.
This new menu provides the most important information users want to know about their backups, as well as quick access to the most-frequently-used Time Machine commands. It saves trips to System Preferences, and it lets users free up some Dock space by removing Time Machine from the Dock.
Keep it up
Now, there are times the addition of particular features is attributed to public outcry, when the reality may simply be that the features weren't ready when the product was initially released. But in two of the examples I've covered here, the "new" behavior is simply an option to revert to behavior that's been around for years. And the third example just makes already-available information and commands easier to access. So I think it's safe to say that, in this case, the voices of users spurred Apple to make these changes.
Which means that we should give Apple credit for listening—and acting. It also means users should continue to voice their concerns. Because sometimes it does make a difference.
Now, about that midrange Mac minitower…
(Updated 5:38 p.m. PT to include tip for accessing the Browse Other Time Machine Disks command from the new Time Machine menu.)