At a Glance
Expert's Rating
Pros
Tracks RSS feeds
Includes tools for easily creating blog entries
Allows for one-stop management of social networks and content-sharing sites
Cons
Currently lacks MySpace support
Interface can get a little crowded
Our Verdict
Back in the Dark Ages of Web browsers, the ability to load images and tables was a big deal because it meant that users could have prettier pages to stare at. Since then, hanging out on the Web has become a lot more interactive—you have blogs to read and post, friends to keep tabs on via social networks, and content to track across user-driven sites like Flickr and YouTube. Enter Flock. Billed as a "social Web browser," Flock offers features that not only let you track your favorite blogs and social networks, but also make it simple to generate your own content.
Setup is very easy. Flock imports preferences, bookmarks, and passwords from any browser that's installed on your system. It also comes preloaded with a tab at top containing links that allow you to easily enter log-in information for Flickr, YouTube, Twitter, and Facebook. Once set, a vertical panel on the left-hand side lets you quickly scan your friends' Facebook updates, read their Twitter tweets, or see who's commented on your latest Flickr photoset or YouTube video. The panel also includes an elegantly designed RSS reader that allows you to track all of your assorted feeds.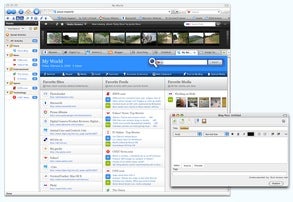 Flock also provides tools for bloggers and other users who want to create content—and that's where this browser really shines. If you run a blog, you have the option of inputting your log-in information for a number of common weblogging hosts and services, such as LiveJournal, Movable Type, or Blogger. Once you've entered that information, you can click on the browser's Blog option to launch a pop-up window that is preconfigured with your weblog's categories and posting options, and also provides space for writing an entry.
Another highly useful feature is the clipboard. To enable it, click on the Drag and Drop Web Clipboard link that's available in the general tools tab at the top of the window. This adds a vertical storage area on the left side of the window for stashing photos, links, or copied text. You can also bring up a window and craft an entry using any item in the clipboard—a boon for hardcore bloggers.
Flock does have a few issues. For one thing, the browser lacks MySpace support, though Flock is currently working with the site to integrate it. Another drawback is the main interface, which can get a bit cluttered between the left-hand space for keeping track of your online presence and the scrolling panes that appear across the top of the window when you're managing your media.
Macworld's buying advice
With the ability to update blogs, track social-networking sites, and manage RSS feeds, Flock is a highly effective tool for Web surfers who want to keep tabs on their miscellaneous online networks. If you're constantly managing blogs and monitoring what your friends are up to online, Flock can be a great timesaver.
[Lisa Schmeiser is a writer in Alameda, California. She's been writing about Mac-related topics since 1999 and blogging since 2003.]