Editor's Note: The following article is reprinted from PCWorld.com . Read more PC World coverage of MP3 players by clicking here.
There's no shortage of extras for Apple's various iPods, but the one must-have accessory is some kind of protective case. After all, you don't want to scratch the screen or scuff that nice, shiny surface, right? But as stylish as they are, most iPod cases are just some combination of plastic, silicone rubber, and metal—except for those made by a few designers who bravely go their own way to come up with truly iconoclastic cases. Genius or madness? You decide.
Lego my iPod!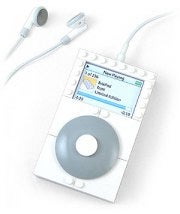 Think Apple fans are, um, passionate? Then you don't know enough Lego aficionados. Combine the two obsessions and you get sites like PodBrix , where the designer known as Tomi modifies and assembles Lego pieces to create Apple-centric figures and dioramas. In 2005 he created the BrixPod Classic, a case for the first iPod Shuffle that looks like a cross between an original iPod and a Lego brick. Press the fake screen, and the shuffle stops or starts playing. Like most PodBrix items, the limited-edition cases sold out pretty quickly—so if you're looking for a brick house for your old shuffle, you'll have to hit eBay.
Your case is shedding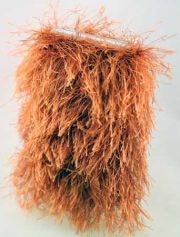 Maybe I'm just packing the wrong chromosomes, but I don't quite understand the appeal of Debbie Ann's Cute Cases, which look less like iPod cases and more like miniature versions of Cousin It. With names like Hottie, Retro, Dark Romance, and Golden Beauty, and coming in eco-friendly materials (they're colored with vegetable dyes, and some are made of 100-percent organic hemp), these cases are all variations on a single theme: fuzzy and colorful. How fuzzy? Let's just say that the line called Tribbles is a great example of truth in advertising. Just be careful that your Cute Case iPod doesn't end up in the sock drawer.
"It once was a slab of clay …"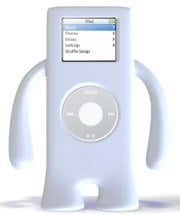 Hey, what does Art Clokey , father of Gumby, have to say about this? Speck Products' rubberized iGuy case for Nanos, Minis, and fourth-generation iPods sports the usual screen protector and dock access, but also comes with a little personality. Thanks to a pair of stubby legs and long, bendable arms, the iGuy can be posed in whatever way you see fit. Who knew there was demand for an iPod action figure? (Read Macworld's review of the iGuy.)
Sweating the oldies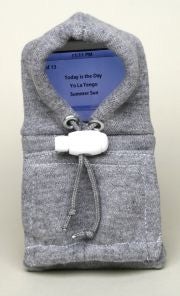 You know how some people dress their pets the same way as themselves? Now athletes can do the same with their iPods. Adrian Meier-Dentzel (Amden Designs) makes the iSweats, which he describes as "a hooded sweatshirt for an iPod," because… well, that's what it is. You can view the screen through the hood (which you can tighten with the drawstring) or turn the click wheel through the pouch. Nano-toting hipsters should note that iSweats are currently made only for full-size iPods.
Rocking it old school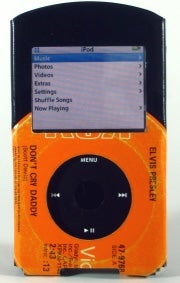 If you remember when managing a music collection had nothing to do with gigabytes and everything to do with finding the right kind of boxes for your records and cassettes, you might want to take a look at 45 iPod Cases. Contexture Design Workshop's Nathan Lee makes custom cases for 4GB to 6GB iPods from old 45-RPM records, and 1GB and 2GB nano cases from old tape cassettes.
While you can pick the type of cassettes used for your nano in memory of mixtapes past, it's the full-size cases that are the most fun: You can pick 45s featuring artists from Depeche Mode to Stevie Wonder to Meco. Hey, a little nostalgia for the analog days never hurt anyone.