At a Glance
Expert's Rating
Our Verdict
One of the things I like most about OS X 10.5 is Spotlight—a statement you may find surprising if you've read my previous writings on the topic. But the fact of the matter is that Apple did a great job with Spotlight in 10.5, fixing nearly all of my major complaints about the Tiger version of the feature.
With the good, though, Apple unfortunately introduced some bad, in the form of the omission of a major feature: the ability to customize the columns displayed in the Finder's Spotlight results window. In Mac OS X 10.4 (Tiger), you could use the View: Show View Options menu to add any number of columns to Spotlight's results window. In 10.5 (Leopard), if you bring up the View Options window while looking at the results of a Spotlight search, you'll see a message stating that "there are no view options for this window." So you're stuck with Name, Kind, and Last Opened as the only columns in your Spotlight results window.
Why is this bad? Consider a fairly simple search: one for all files over 10MB in size on your machine. I use such searches often, as they help me keep my drives clutter-free. If you run such a search, it seems logical that you'd like to be able to view the Size column, so you can not only see how big each found file is, but also sort those files by size. Indeed, you can do just this in 10.4, but not in 10.5—so while you can run such a search, the results are basically worthless. (You have to use Get Info to see the size of each file, one at a time.)
Enter HoudahSpot 2.0.8 ( ; €15), a third-party interface to OS X's Spotlight technology; version 2 has been designed specifically for Leopard. I wrote about HoudahSpot 2 briefly during Macworld Expo week, but since then, I've been using it quite a bit.
The first thing about HoudahSpot 2 that caught my eye was its ability to solve the "no customization" issue with Spotlight searches. After running a HoudahSpot search, Control-click on any column and you can choose to add Created, File Path, and Size columns using the contextual menu that appears. Add the Size column, and then click on that column, and your results are now sorted and displayed by the size of each item.

But that's just the tip of the iceberg. Choose More Columns from that same contextual menu, and you can add any Spotlight search field as a column. So, for example, if you search for images with an Exposure Time greater than one second, you can add Exposure Time as a column in the results list and sort on that field. This is more flexibility than the Finder has ever offered, and it can be very useful when running searches on some of the less-mainstream Spotlight operators.
The other thing I like about HoudahSpot 2 is that it provides easy access to the full power of the Spotlight engine. The left side of the HoudahSpot window shows four different input areas—What, Where, Exclude, and Limit. The What section is used to build your query, and works much the same as using a Spotlight search in the Finder. The Where section lets you specify on which files and folders your search will be performed; you can choose from pre-defined values in a pop-up menu or pick your own location using the Other option. Exclude lets you list directories to exclude from the search; for example, you could specify your home folder as the Where, but then exclude anything in Movies. The Limit section is used to limit the matches found by HoudahSpot based on date created, date modified, or date opened; for example, the 1000 Most Recently Opened items or the 50 Least Recently Modified items.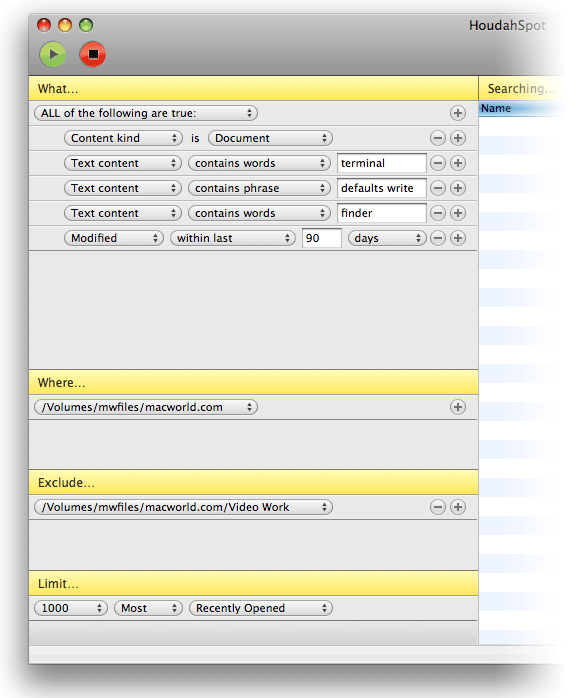 Using these sections together, you can build some truly complex searches. Once a search is created, HoudahSpot makes it simple to save and use the search again later. One option is to save the search as a document file, which will open in HoudahSpot when double-clicked in the Finder. More useful, though, is to save a search as a Template, which will then appear in HoudahSpot's Templates menu. You can use HoudahSpot's Preferences to set Command-key shortcuts for your 10 most-used templates.
HoudahSpot also includes a global hot key (Control-Command-Right Arrow, by default) to activate or switch to HoudahSpot from any application. So, for example, to run my file-size query from any application, I first press the global HoudahSpot shortcut, then press Command-1, the shortcut I've assigned to the file-size query. It doesn't get much simpler than that.
Once you're looking at the results of a search, you can use a Filter field to further limit your results. With my large file search, for instance, if I want to find all the .mov (QuickTime) files in the results, I can just type .mov into the Filter box, and HoudahSpot will show me only those files with a name containing .mov. By default, this Filter field filters on item name; however, click on the magnifying glass in the Filter field and you can tell HoudahSpot to exclude matching file names, or include or exclude items based on an entered file path. You can do this in a Finder search, as well, but doing so requires you to add criteria to your search. In HoudahSpot, you just type text into the Filter box to modify your search results; type a new filtering word, and you'll instantly see the results list change based on what you've typed.
HoudahSpot also lets you look at the files you've found in a few different ways. First, you can view an Inspector window for a selected file or folder by pressing Command-Option-I. Instead of the Finder's Get Info window, you'll see a window showing the various data that Spotlight tracks for the file: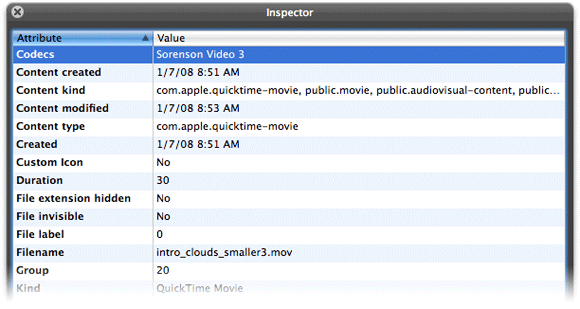 You can also use Quick Look within HoudahSpot, just as you can in the Finder—select any entry in your results list, press the Space Bar, and if Quick Look can display the item type you've chosen, you'll see the item's Quick Look preview window. Just as with the Finder's Inspector, as you select different items in the HoudahSpot results list, the Inspector will change to display information about each item.
Finally, if you need to do even more with a file, you can Control-click on it. The contextual menu that appears contains a number of useful options, including Open, Open With, Reveal in Finder, Get Finder Info for Selection (the Finder's traditional Get Info window), and the ability to copy, move, alias, or trash the selection.
HoudahSpot 2 has a couple rough edges; for example, complex searches with a large number of allowed files can take quite a while to run, and while they're running, HoudahSpot may not be responsive. I also found that the contextual menu for a file in the results list sometimes took a few seconds to appear when switching back to HoudahSpot from another application. However, I don't find either of these issues to be show-stoppers, especially given how many other things I can do with HoudahSpot.
So if you like the power of Spotlight in 10.5, but wished it were a bit more accessible, or a bit more feature-rich, give HoudahSpot a test run—you may find it to be the perfect companion for Spotlight.