Tired of rehashing the same static presentations? Consider adding movement. Used judiciously, animations can add power and pizzazz to your presentations, and they can often illustrate a point better than words alone. Keynote has long been able to move pictures and text on slides (using object builds), but Keynote '08 ( ), part of Apple's $79 iWork suite, ups the ante. I'll show you how to use Keynote's new animation tools to take your presentations to the next level—by zipping an object across a slide, adding cool photo effects, and more. (To learn how I used the tools to create a complex animation, see "Bringing It All Together.")
Read more…
Make your message move
Apple has expanded Keynote's repertoire with several new action builds, including Move, Rotate, Scale, and Opacity. The most significant is the Move action, also known as an A to B animation (a feature that Microsoft PowerPoint 2004 lacks). Using this effect, you can make objects travel along a path you define.
Start the Animation First select an object, and then head to the Build Inspector's Action pane (select View: Show Inspector, click on the yellow diamond icon at the top of the palette, and click on Action). Choose Move from the Effect pop-up menu. A straight red line with diamonds on each end will appear. This line connects the original object to a translucent copy that represents the anima-tion's finishing position. You can drag either diamond to change where the object starts or finishes.
If you prefer a curved path to a straight one, click on the Curve button (its icon is a little arch) in the Build Inspector (under Path). The red line will change to a curve with a control point in its middle. If you click on this point, Bézier handles appear, allowing you to change the degree of curvature; dragging the point stretches the curve like a rubber band. To create a more complex curve, option-click anywhere on the path to add a new control point.
Add On If you plan to move your animation along multiple lines or curves, you'll need to insert additional paths. At the end of your current path, you should see a diamond with a white plus sign (+); click on the plus sign, and a new path will appear. Continue adding and modifying paths until you get the animation you want. As you create new paths, previous ones appear as dotted red lines, so you can view the entire course of an animation (see "Animation on a Path").
You can also apply more than one action build at a time. For instance, you can make an object grow or shrink as it moves across a slide. After you've created an action build, you can click on the Add Action button in the Build Inspector's Action pane. Select Scale from the Effect pull-down menu in the drawer that pops out of the Inspector, and use the slider to set how much the object grows or shrinks. To make the Scale action and the action you've already set up occur simultaneously, go to the Build Order drawer and select Automatically With Name Of Previous Build from the Start Build menu.
Check It Twice To preview your work, go to the Build Order drawer, where each path is listed as a separate build. Click on a build to see a preview of the animation in the Inspector. (If you don't see the drawer, click on the More Options button at the bottom of the Inspector.) By default, Keynote arranges things so that a mouse click triggers each build during the presentation. If you want to create one smooth animation, go to the Start Build pop-up menu in the Build Order drawer and choose Automatically After Name Of Previous Build.
Smarten up your image builds
Sometimes you need to include more than one image on a particular slide. For example, imagine a political presentation in which every slide focuses on a different office and runs through a picture of each candidate, one at a time. In past versions of Keynote, displaying a series of photographs or illustrations—with flowing animation between each image—was possible but a hassle to set up. For every photo, you had to create both a build in (to make the image appear on the slide) and a build out (to make way for the next image). Keynote's new Smart Build feature streamlines the process considerably.
Begin to Build Select Insert: Smart Build, and choose from ten preset animations, including Dissolve, Flip, Spinning Cube, and Turntable (similar to the animations in Front Row). When the floating photo window appears, drag and drop images from the desktop or use Keynote's Media Browser (View: Show Media Browser) to pull images from your iPhoto library.
Customize It This is a great point at which to take advantage of another of Keynote '08's new features: Picture Frames. These are a special kind of graphical stroke that you can add around your photos to give them a particular look. For example, one picture frame adds a white border with old-fashioned photo mounts at the corners, and another makes your picture appear to be inset into the slide's background. You have a choice of 12 different Picture Frame effects. Quick tip: Although Apple only shows you 12 Picture Frames, there are really 72 Frames hidden inside Keynote. See instructions on how you can access all of them.
To add a Picture Frame, click to select the photo on your slide, then open the Graphic Inspector. In the Stroke section, choose Picture Frame from the pop-up menu. Click on the frame thumbnail, and then pick the frame you want from the frame gallery that appears. Finally, fine-tune your frame by using the Scale, Color, and Size controls (the latter two only appear in a few frame types).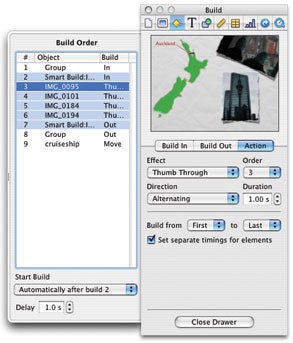 In the Build Inspector's Action pane, you can specify the animation's direction, duration, and other attributes. You can also set different display times for each image: in the Inspector, select the Set Separate Timing For Elements option. Each photo will appear on its own line in the Build Order drawer. Click on the first photo's line, choose Automatically After Previous Build Name from the Start Build pop-up menu, and set a display time in the Delay field (see "Custom Durations").
Once the smart build is on the slide, you can treat it like any other object. That means you can set it to enter or exit the slide with a swoosh or a wipe by applying one of the effects in the Build Inspector's Build In or Build Out panes. But there are some limitations—you can't move a smart build along a path, rotate it, or scale it, for instance. Also, since you can choose only one animation effect for the entire set of images, you'll have to use an action build, or regular build-in and build-out effects, if you want to apply a different kind of animation to each photo.
Attraction or distraction?
Animations can be very effective—but used haphazardly, they can also turn off an audience. Just remember your torment the last time you saw a presentation that used a boatload of slide effects to distract from lackluster content. Before you add an animation, ask yourself three questions, and don't proceed unless you can answer yes to all of them:
1. Does this animation help make my point better than words or images would alone?
2. Will the animation make it easier for my audience to understand the idea behind the slide?
3. Does the animation underscore what I'm saying?
Good presentations aren't about the slides or fancy effects. They're about your message. So don't use an animation if it's going to distract people from the real significance of your ideas.
Bringing it all together
From Move actions to smart builds, Keynote '08 provides more tools than ever for creating killer animations. But how do you assemble those animations into a single cohesive presentation?
I've created a sample animation that combines three new features: action builds, smart builds, and picture frames. (See a movie.) The animation recaps a recent cruise around New Zealand. An action build makes an animated cruise ship move from port to port. At every stop, one or more photos pop up (thanks to a smart build), and titles fade on and off the screen (thanks to build ins and build outs). Here's how it all came together.
Prepping the Map First I gathered an outline map of New Zealand and an icon of a cruise ship (I purchased images from iStockPhoto.com). I used Adobe Photoshop to clean up the edges and fill in the map with a color that matched my presentation. When I was finished, I dragged the images onto a Keynote slide.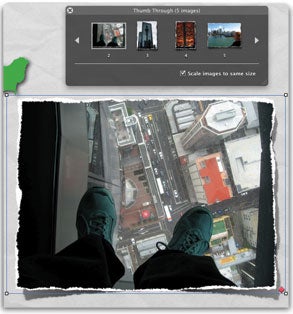 With the new Instant Alpha feature (Format: Instant Alpha), I eliminated the background from each picture; then I applied a drop shadow to the map (using the Graphic Inspector). I inserted a dot to represent each port by creating a small circle and dragging the corners to adjust its size (Insert: Shape: Oval). I duplicated the circle six times (Command-D) and then moved the dots into place on the map. I selected the dots and the map, grouped them (Arrange: Group), and locked their location so they couldn't be moved accidentally (Arrange: Lock).
Heading for Port To build the animation, I started with the first port:
1. I created a text box with the name of the city (Insert: Text Box), and inserted a line pointing to the city's location on the map (Insert: Shape: Line). I made sure the two items were grouped so they animated together.
2. Using the Build Inspector, I applied a build-in wipe effect to put the port's name and its associated line on the map.
3. I created a smart build and populated it with photos from that locale (see "Adding Smart Builds"). I chose a build-in effect so that the first photo would pop onto the slide, then applied a picture frame to enhance the look. To do that, I clicked on the smart build (on the slide itself), opened the Graphic Inspector, and selected Picture Frame from the Stroke pop-up menu.
4. I showed each image in the smart build by tweaking my animation's effect, direction, and duration settings in the Build Inspector's Action pane. I created an exit for my smart build by using a build-out dissolve effect. I did the same with the port name and the line.
5. I created a Move action to shift the cruise-ship icon to the next port (the ship was sitting behind the map, so I selected Arrange: Bring To Front), and I adjusted the animation's path so that the ship moved along a pleasing curve to its next destination.
Cruising Along Instead of going through the tedious process of re-creating this sequence for each port, I used a shortcut to finish my animation. After I created the first sequence, I duplicated that slide to create the remaining ports, tweaking each duplicate slide with new information. I added transitions between slides (using the Slide Inspector's Transition pane) to create a seamless animation.
[Longtime Macworld contributor Tom Negrino has written ten books about Keynote and PowerPoint. He keeps bullet points to a minimum in his presentations.]