Music and lyrics—these are equally important parts in the composition of a song. But while you can tap your foot or strum along with a tune on your air guitar, you can't sing along if you don't know the words. And how frustrating is that?
Lots of CDs provide the lyrics in the liner notes, but songs purchased from the iTunes Store or ripped from your CDs don't include that information in the file (and your iPod can't display the digital liner notes that accompany some iTunes albums). Nevertheless, iTunes and your iPod can still help you sing along by letting you add lyrics to your music files. Just as you can add album art to these files, you can insert lyrics into a special field, which you can then view in iTunes or on some iPods—including recent full-size and nano models, the iPhone, and the iPod touch (but only with a $20 upgrade).
Pasting and viewing lyrics
Adding lyrics to a song is easy. In iTunes, select a track, choose File: Get Info or press Command-I, then click on the Lyrics tab. You'll see a big text field, into which you can paste lyrics that you've found on a Web site, transcribed from liner notes, or deciphered when listening to a song (this will work with purchased or self-ripped songs). Click on OK, and iTunes will save those lyrics to that song. The next time you sync your iPod, iTunes will copy your modified music files to it (assuming you've set it to autosync—otherwise you'll have to update the songs by hand).
When listening to music with iTunes, you can view lyrics as your songs play; just press Command-I to bring up the same Info pane. On an iPod that can display lyrics, press the center button four times while a song is playing to view its lyrics (on the iPhone and iPod touch, tap on a song's album art). You'll have to squint a bit, and you'll need to scroll every once in a while to get the backlight to stay on (unless you have it set to stay on permanently), but you can scroll up and down and sing along as you please—just keep in mind that others nearby may not be as enthralled with your singing as you are. To dismiss the lyrics screen, press the center button again (on the iPhone and touch, tap on the lyrics).
Finding the right words
It's a breeze to add and view lyrics—the hard part is to actually find the lyrics you want. Lyrics, like music, are copyrighted, and a number of court cases have raised questions about whether Web sites can host collections of lyrics, or whether tools to find them are legal (the lyrics-fetching program pearLyrics, for example, was forced out of existence by legal threats). While plenty of Web sites provide collections of lyrics, there's no guarantee that the sites will stick around.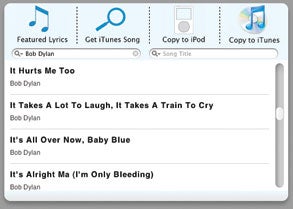 Many performers provide lyrics to their music on their own Web sites. Bob Dylan's site has lyrics to all his songs; the official U2 Web site has all of that band's lyrics; and the Arctic Monkeys include lyrics on their site. Search for your favorite artists and you may find what you're looking for. If you're interested in classical music, you'll find opera libretti online at places such as Lyle K. Neff's Libretto Homepage, and if lieder or art songs are your thing, the Lied And Art Song Texts Page has more than 20,000 texts in many languages.
To find lyrics on the Web, try searching for the name of a song or artist and the word lyrics in Google. You'll find several sites to choose from, though these lyrics may not be very accurate; many of the sites seem to exist more to display ads than to provide trustworthy lyrics. One site worth checking out is LyricWiki, a community-generated site that claims to have reliable lyrics; anyone who finds errors can correct the lyrics on the site.
As a last resort, you can type the lyrics yourself from liner notes or even transcribe them while listening to your favorite songs. Of course, this can be hard, as lyrics aren't always clear, and you may end up with mondegreens—passages you've misheard. You'd be surprised how often people think the Beatles are singing "the girl with colitis goes by" instead of "the girl with kaleidoscope eyes" in "Lucy in the Sky with Diamonds."
Automated lyric catching
If you have lots of music and want the lyrics for as many songs as possible, a couple of tools can help you do this more easily. Start by checking out Staylazy's Canto Pod 1.1 (payment requested). This widget automatically checks LyricWiki for lyrics to a song you're playing in iTunes and lets you choose whether to copy them to that song. (It can also copy lyrics to your iPod by adding them as contacts in Address Book. You can then view them even when you're not playing a song—great for karaoke.) You can also search manually by entering an artist's name, a song's name, or both, and Canto Pod will look for lyrics. If you enter only an artist, you'll see a list of songs the widget has found, and you can click on the one you want. Unfortunately, Canto Pod appends a few sentences at the end of the lyrics reminding you that the program provided them and mentioning some copyright information.
You can go a step further and automate searching for and adding lyrics as you listen to songs in iTunes. With Eternal Storms Software's GimmeSomeTune (payment requested; www.eternalstorms .at), you can hunt for lyrics each time you play a song in iTunes (the program won't overwrite lyrics you've already added). If GimmeSomeTune finds lyrics, it pastes them into the song file. The program doesn't stop at fetching lyrics, though. It can also grab album art and display a floating window with the lyrics (via a keyboard shortcut or a menu selection), and it has a slew of iTunes control features, such as hot keys for controlling iTunes and setting ratings.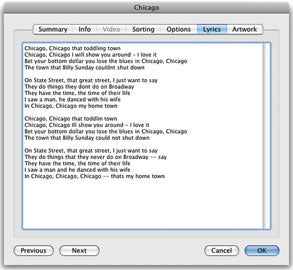 But what if you have many songs and you absolutely must get their lyrics before you head off to work? You could start each song, play it until GimmeSomeTune grabs the lyrics, and then skip to the next one, after GimmeSomeTune has gotten lyrics—but there's a better way. Doug Adams's Needle Drop 2.8 script (payment requested) plays the beginnings of your songs, so GimmeSomeTune has time to fetch and add lyrics, before moving to the next song. When you launch the applet, you choose how long to play each song and when to start. Ideally, you'll want to play each track for 10 to 15 seconds (more if you find that GimmeSomeTune isn't getting many lyrics, or less if you find that it retrieves lyrics fast) and start each song from the beginning. Select your playlist, make sure GimmeSomeTune is running, then launch Needle Drop. Go eat breakfast, and when you come back you'll have lyrics for plenty of your songs. Or, if you want to do this for your entire library, set it to run overnight or over a weekend if you have a lot of music.
One note: both of these programs depend on precise song tags. Even minor misspellings, or additional words such as Live after a song name, will prevent the programs from finding lyrics. So if they can't locate some lyrics, the tags may be at fault.
Singing along
You probably won't want to use your iPod when you sing in the shower—and the people on the bus around you might not appreciate your voice—but adding viewable words to your songs can help you rediscover the power of great lyrics.
[Kirk McElhearn writes about Macs, iPods, books, music, and more on his blog, Kirkville.]