At a Glance
Expert's Rating
Pros
Picks up where it left off when you quit and continue
Easy to understand
Pleasant sound and graphics
Cons
Been there, done that with Diner Dash and similar games
Our Verdict
Playfirst's Diner Dash has been an astounding success in the casual game market, and just like other casual game successes like Zuma and Bejeweled, it's spawned hordes of imitators. Sandlot Games threw its lot in with the Diner Dash clone crowd with Cake Mania, a mostly by-the-books Diner Dash clone that has some strengths of its own.
In Cake Mania, you take the role of Jill, a young entrepreneur with dreams of owning her own baking empire. She opens a small neighborhood bakery and gets money by waiting on customers quickly and efficiently. The faster you get in the orders and get your customers their cakes, the more money you'll make. As you get more customers and put your money back into the store, things get more hectic—you'll have more styles of cake to bake, more ovens, more things to decorate the cakes with, and a never-ending line of customers who grow increasingly needy and impatient.
If this sounds familiar, it's because it should be—this is almost the exact same scenario that plays out in the Diner Dash series. It's what we game reviewers refer to as a "plate-spinning" game—a game where you have to try to balance as many activities as you can simultaneously, acting as a one-man (or in this case, one-woman) production line. It's fun for a while, though it can get pretty exhausting and downright frustrating before too long.
The game features about four dozen different levels to master—Jill makes her way to four different bakeries as her business continues to grow. And with each bakery comes new opportunities. The money you make from the sale of the cakes can be turned over into new equipment—automatic icing gear, bigger and better ovens, toppers for the cakes, or a better pair of shoes so Jill can run around.
New customers come calling, some with different requirements for their dream cake than others. And as you wait on each of them, you see a heart-meter that shows you how satisfied they are. The longer they wait, the less satisfied they get, and the less likely they are to leave a tip behind to help you get ahead. Let them go long enough, and they'll leave you in the lurch, holding a cake that no one wants, having wasted precious time. It's not too hard to get behind the eight ball on this, and end up like Lucy and Ethel on the chocolate bon-bon production line, desperate to try to get ahead.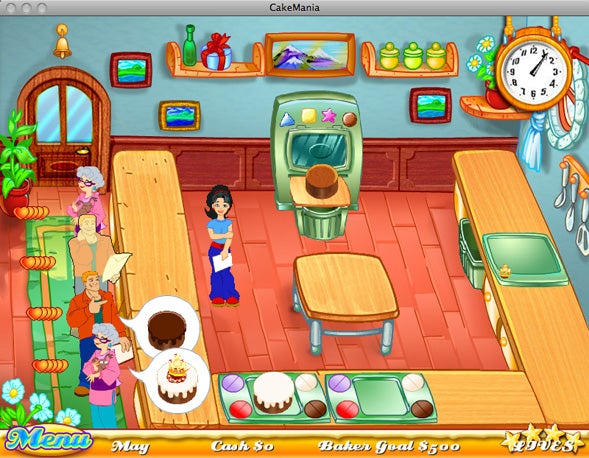 If this sounds fun, it's because it is, in a frantic, frenetic sort of way. When things do well, Cake Mania is a lot of fun to play. When they don't, it turns into a frustrating mess. Fortunately, the game saves at each level on the way, so you can always quit for a time and come back—just as you should be able to with any casual game. That makes Cake Mania an ideal time-waster on your lunch break or between phone calls at work or at home in front of the TV set. It's not the most challenging game in the world, but it is fun.
Production quality is good. The game has a custom soundtrack and pleasant, colorful cartoony graphics. It won't win any game-of-the-year awards for outstanding artwork or music, but it suits the environment perfectly.
At the risk of sounding jaded, my biggest complaint about Cake Mania is that I've been there and done that. There's nothing I haven't seen here before in the Diner Dash series and other copycats, so there's really nothing—outside of the fact that Jill's making cakes, not waiting tables or washing dogs and cats—to separate this from a dozen other games. But the difference in the environment may be enough for some casual gamers to give it a try, especially if they have a sweet tooth.
As a casual game, you'll be able to find Cake Mania in a variety of places ranging from Sandlot's Web site to Macgamestore.com. MacSoft has even started selling a retail box version, if you'd like to pick up a physical copy for someone as a gift. All of them cost the same, and a downloadable demo is available.
The bottom line
Cake Mania is a basic, by the numbers Diner Dash clone that's good, but unremarkable.