The words "There's something in the air" at Macworld Expo made the MacBook Air sound like a paper-thin gift descending from Apple's heavens. And after testing several incremental upgrades to pre-existing Macs, I was looking forward to the Air—something brand new, a breath of fresh air, if you will. But, after spending some time testing the MacBook Air, the only thing in the air around the Macworld Lab were words one can't reprint in a family publication.
As we noted in our MacBook Air review, this laptop isn't for everybody. But in weighing who should and shouldn't buy a MacBook Air, our review omitted one key type of user from consideration: people who have to do extensive speed testing of Mac laptops. Okay, so there aren't many of us. But we do represent 100 percent of the population of the Macworld Lab.
It started with installing Speedmark—Macworld Lab's suite of test applications and files to perform benchmarking—on the MacBook Air. We typically transfer those files using Apple's Migration Assistant and a FireWire connection, but of course a glance at the Air's tech specs will tell you that this laptop doesn't do FireWire. Instead, we had to sync using the new Migration Assistant, which lets you transfer files via AirPort, Ethernet, or via USB from a Time Machine backup.
I wish I could say we migrated seamlessly using Wi-Fi, but we didn't. On our first attempt to migrate, we ended up cancelling our seemingly endless wireless migration and instead using an Ethernet cable and Apple's USB Ethernet adapter to do the transfer. Once we had completed the lengthy transfer procedure, some applications—including Adobe Photoshop and Microsoft Office—were mysteriously lost in migration. On the desktop, alias icons transferred over as blank, white documents. I heard Jim groan as he reached for the optical drive to reinstall the applications that were lost in the ether. (Jason Snell didn't experience most of these problems when he used the Migration Assistant, though he did experience some strange problems with icons of files on his desktop as well as lengthy transfer times.)
Then there was the battery, which we've been testing for a report on the MacBook Air's battery life. In his review, Jason noticed the Air was taking a peculiarly long time to charge fully. Jim, Jason and I have been putting the Air's battery to the test over the past week. The results have been… puzzling. In one test, it took us nine hours to completely charge its battery. The next day I tested the same unit again, and the recharge time dropped to five hours. We've gotten our hands on two more MacBook Airs since then, and the results of battery testing continue to be all over the map.
When we finally got Speedmark up and running, the course looked smooth. I finished running most of the tests on a 1.8GHz MacBook Air with a solid-state drive, and all that was left was our video-rendering test using Compressor 3, an application included in Final Cut Pro Studio 2. Compressor repeatedly failed when we clicked the Submit button to commence rendering. A permissions repair didn't help. Reinstalling Final Cut Pro Studio didn't work. Deleting everything Final Cut-related and reinstalling Compressor didn't work. Finally, Jim decided to reformat the hard drive and reinstall Leopard and Final Cut Pro with the optional external optical drive. That worked.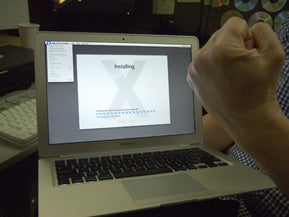 Jim and I didn't want to face any delays using Migration Assistant, so we thought perhaps making a Time Machine backup of a Speedmark system and copying over files via a USB drive would be easier. So Jim put this to the test—he created a Time Machine backup of a Speedmark system, reformatted a 1.6GHz MacBook Air, plugged in the optical drive and inserted the DVD to install Leopard. He clicked Install and the status bar appeared with the message "Time Remaining: Calculating…" An hour passed, and that message remained. Four hours passed, and that message never changed. Finally, Jim force-quit the Air and tried again. This time it worked. Despite his expertise on all things Mac, he didn't understand what was happening.
Of course, unless you've decided to set up a test lab in your basement and create your own suite of application-based Mac speed tests, you may not run into any of the oddities we have. But we most definitely learned one thing this week: the MacBook Air is a different kind of beast, and it's going to take a little while for us to learn all its idiosyncracies. (Right now would probably not be the best time to ask us if that's a good thing or not.)