At a Glance
Expert's Rating
Pros
Compatible with several iPod models, including iPhone
Transmits good sound quality with negligible interference
Cons
Significantly drains iPod battery during usage
Expensive
Our Verdict
Your iPod works easily enough as a pocket media player, but things get a bit more complicated when turning it into a living-room entertainment device. Sure, you could use a dock and connection cable to plug your iPod directly into your stereo, but a wire dangling around your living looks tacky—and is inconvenient—when all your other devices are controlled remotely. You could purchase one of the many wireless iPod remote controls out there, but the big drawback with most remotes is the inability to view and use your iPod's screen and menus from across the room. This is where Belkin's TuneStage II , a Bluetooth receiver/transmitter, comes in handy. (We reviewed the original TuneStage back in October 2005.)
The Belkin TuneStage II works as such: you connect a small, Bluetooth transmitter to your iPod's dock-connector port, and the transmitter wirelessly sends your audio to a receiver hub connected to your stereo or speaker system. In doing so, you turn your iPod into its own remote by freeing it of the need for wires; you keep the iPod itself in your hand.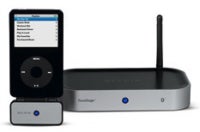 Setup for the TuneStage II is easy: After connecting the Bluetooth receiver to a stereo system using the included cables, turning on the receiver (which is powered by the included AC adapter), and connecting the transmitter to your iPod, the transmitter takes a few seconds to connect—to pair, in Bluetooth terminology—with the receiver. After that connection is confirmed via a blue light on the receiver, you just press Play on the iPod and you'll be sending music to your stereo system wirelessly.
The TuneStage II is Belkin's upgrade of the original TuneStage. While the TuneStage was compatible with only a small variety of iPods—those with a special remote/headphone connector on the top—the TuneStage II works with nearly all dockable iPods, including minis, nanos, and fourth- and fifth-generation iPods. It's compatible with the iPhone, although you'll get some GSM interference if you place your iPhone too close to your speakers or the receiver and the iPhone isn't set to Airplane Mode. It should also be compatible with the iPod touch, although I didn't have one on-hand to test.
As is always the case with wireless audio products—at least ones we've seen thus far—the TuneStage II doesn't provide quite as good sound as a wired audio connection. Even when holding a transmitter-equipped iPod as close to the receiver as possible, I heard a very faint hiss from my speakers. That said, I found the level of hiss to be negligible; even at high volumes it was still faint enough not to be bothersome, and overall audio quality is good enough that only nit-picky audiophiles (like my editor) are likely to complain.
The TuneStage II's usable range is also impressive: the Bluetooth connection didn't cut off until I walked all the way down a hallway and into another room—approximately 30 feet. And unlike radio-frequency (RF) transmitters, which tend to exhibit increasing levels of static as you get further from the receiver, the Bluetooth signal is steady until you reach the maximum range, at which point it simply cuts off.
The TuneStage II may sound like the perfect across-the-room solution, but there is a drawback to listening to your iPod wirelessly: reduced battery life. The transmitter is powered by your iPod's dock-connector port, so it reduces your iPod's own battery life. For example, using the TuneStage II with a 30GB fifth-generation iPod, I was able to get 6 hours and 45 minutes of playback time. The same iPod lasted 15 and a half hours before running out of juice when played on its own.
Macworld's buying advice
Belkin's TuneStage II offers a convenient alternative to iPod remotes by turning your iPod into a remote. The device's main drawback is that it significantly drains your iPod's battery life, but this may not be a major issue if you're using the device in your home—unless you regularly listen continuously for extended periods, you can just charge your iPod in between sessions. The TuneStage II is a somewhat pricey solution, but if you enjoy a wireless lifestyle, this device is a worthy investment.
[Brian Chen is an associate editor at Macworld.]