I know what you're all expecting. It's February 13th, and you probably think I'm going to make a big deal about tomorrow's "holiday." I have no idea why there's such a fuss over something that happened hundreds of years ago and how it's evolved into what we celebrate nowadays, but you know, I think it's all just ridiculous. If you want me, I'll be off celebrating the far more important feast days of Saints Cyril and Methodius, who were not only the patron saints of Europe, but also the inventors of the Cyrillic alphabet (which, with all due respect, should really be called the Cyrithodical alphabet or something).
Spurious greeting-card-inspired holidays aside, we're still on our weekly crusade for great gadgets. This time around we bring you rocking out with your iPod out, a high-tech timepiece, and getting you (and your buddies) online, no matter where you go.
iPod + iGTR = rocking out with your own bad self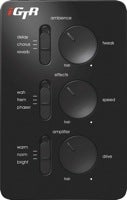 Loyal Gadgetbox readers know that I'm a Rock Band fanatic (my simulated drumming career is going quite well, thanks). But if there's one major frustration with rocking out, it's the limited song catalog. Wouldn't it be cool if you could use any song in your music library?
Sadly, while there doesn't appear to be a way to pull that off in the virtual world, there is a solution for those who jam on a real guitar. The Waves iGTR is a personal guitar processor that provides an input for your axe and an aux input where you can jack in your MP3 player or music source of choice. A headphone/speaker jack lets you listen as you jam along with your favorite tracks. The Waves iGTR also features three virtual amps, three ambient effects, and three modulation effects, plus the nifty dials and switches that all geeks love. And at $80, it'll cost you less than Rock Band.
Now, I just need to learn how to play the guitar for real. It's just like Rock Band, right?
[via OhGizmo!]
Phosphor watch is black and white (but not red all over)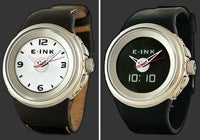 What could a wristwatch possibly have in common with Amazon's Kindle ebook reader? No, you're not about to load up Pride & Prejudice on your watch—what do you think this is, the future?
That said, the Phosphor does use the same E Ink technology as the Kindle's screen. What exactly does that get you? For one thing, you can easily toggle between white numbers on a black background and black numbers on a white background, making the watch easy to accessorize with any outfit. Plus the digital time display in the middle can be switched between time and date—amazing, I know. And should all else fail, you've got the good old analog hands too.
And…well, that's it. I mean, it's an E Ink watch, people—what more do you want? Sometimes the best things come in simple, elegant packages. Oh. You want to know how much it costs? Yeah, fine: two hundred and fifty clams, all right? For that price maybe you ought to just go get yourself a Kindle, huh?
[via Red Ferret]
Portable Wi-Fi router is great gorgeous gadget (or "3G")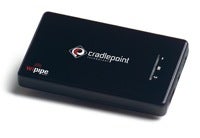 Internet connectivity is my lifeline nowadays. If I go too long without it, I get a little jittery. Everything kitten I see turns into a potential lolcat; every funny happenstance is a YouTube video waiting to happen. It's enough to drive a person mad.
So the appeal of this new portable 3G Wireless router is undeniable. Just plug your EV-DO modem or cell phone into the USB port, and you've got an instant 802.11b/g (sorry, "n" fans) Wi-Fi hotspot, complete with WEP/WPA security and integrated firewall. Even better, though it does have a power adapter, it also contains an internal rechargeable battery for truly wireless working. It also means it's heavier, should you ever reach one of those points where you need to hurl something across the room out of pure frustration (trust me, weightier is better).
The device itself, the PHS 300, is made by Cradlepoint and runs for $179. Of course, you'll need some sort of EV-DO service and modem/phone for this to work. Cradlepoint's support page provides a list of compatible devices.
[via Ubergizmo]
Anyway, while I'm feasting on traditional St. Cyril and Methodius day foods (word is the boys loved Cheetos and Coke), enjoy your other little celebration. We'll see you next week.