Some people will be able to set up and turn on Time Machine with a single click. But you may need to do some manual configuration to get it to work the way you want. You should also be aware of some quirks in Time Machine's operation, particularly when restoring data.
Get set up right
When you first plug in a hard drive that's suitably partitioned and formatted, Time Machine displays an alert asking if you want to use that disk for backups (see "One-Click Backup"). Click on Use As Backup Disk—that's the one-click setup—to turn on Time Machine and set it to use that hard drive as its destination.
If no alert appears, or if you want to choose a network volume as your destination, open the Time Machine preference pane and click on the Choose Backup Disk button (which switches to Change Disk after your initial selection). Select the volume you want to use and click on Use For Backup. Follow the same procedure if you want to use more than one backup disk and switch between them; after connecting the new drive, select it in the Change Disk dialog box.
Exclude files
If your backup disk is too small to hold all the files on your startup disk, you can tell Time Machine not to back up some of them. To do this, click on the Options button in the Time Machine preference pane. Then either drag the items you want to exclude into the Do Not Back Up list from the Finder, or click on the plus-sign (+) button, navigate to a file or folder, and click on Exclude.
Here are some suggestions:
System Files The files that make up OS X itself—including programs such as Safari, Preview, and iCal—take up nearly 10GB. To exclude all of them, add your System folder to the Do Not Back Up list. Click on Exclude All System Files when prompted. Note that excluding these files means Time Machine will be unable to restore your entire disk—but if you maintain a separate bootable duplicate, that shouldn't be a problem.
Large Media Files Video files and, to a lesser extent, audio files can take up an enormous amount of space. Consider excluding folders containing such media files if you can recover them in some other way.
Virtual Machine Disk Images If you use the $80 Parallels Desktop 3 ( ) or the $80 VMware Fusion 1 ( ) to run Windows on your Mac, you may have one or more large disk-image files that contain an entire Windows installation. These files change every time you do anything in Windows, so you should back them up separately. You can find Parallels disk images in your user folder/Documents/ Parallels/virtual machine name (look for files with the extension .hdd). For Fusion, look in your user folder/Documents/ Virtual Machines (Fusion disk images use the extension .vmwarevm).
Installers Downloaded software, typically distributed in disk-image files, can chew up disk space quickly. Exclude your Downloads folder to give Time Machine more breathing room.
Aperture Files At press time, Apple reported conflicts between its photo-management program and Time Machine. The company recommends excluding your Aperture library.
One-Click Backup: When you attach an external hard drive to a Mac running Leopard, you'll see this alert, which lets you set up and turn on Time Machine with one click.

Control ons and offs
Time Machine ordinarily runs in the background, updating your backup disk once an hour. If you want to disable automatic operation temporarily (for example, to reduce disk noise or improve the performance of other disk-intensive tasks), click on the on/off slider in the Time Machine preference pane. Whether that slider is in the on or off position, you can force Time Machine to do an immediate backup by right-clicking (or control-clicking) on the Time Machine icon in the Dock and choosing Back Up Now from the contextual menu.
Note that you do not need to turn off Time Machine before disconnecting or unmounting its destination disk.
Fix unrecognized disks
If you attach an external USB or FireWire drive and its volumes do not show up in Time Machine, or backups proceed partway and then fail, one likely reason is that the drive was originally configured for Windows and, for one reason or another, Time Machine can't reformat the drive automatically. Ordinarily, Windows-formatted drives work fine in OS X, but Time Machine is pickier—it requires that destination volumes be formatted as Mac OS Extended (Journaled) (see "Volume Format"). In addition, the partition map scheme must support the format and size you want to use for your backup volumes.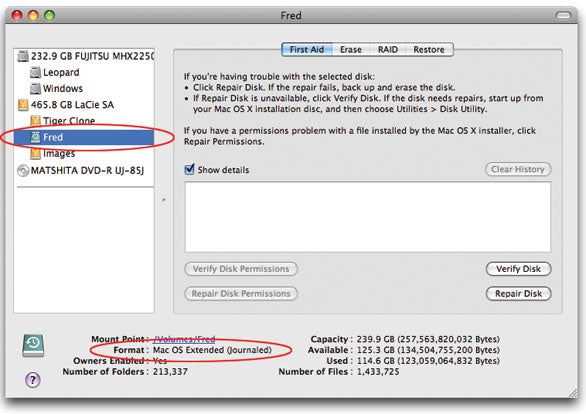 The partition map scheme describes how the drive stores its volumes. Drives originally set up for use on Windows usually use the Master Boot Record (MBR) scheme, as opposed to the Apple Partition Map (APM) scheme, the default for PowerPC-based Macs, or the GUID Partition Table (GPT) scheme, the default for Intel Macs. Although OS X supports MBR, there's a catch: Mac OS Extended volumes can be no larger than 512GB on a drive partitioned with the MBR scheme. So if you have, say, a 750GB or 1TB drive, you must repartition it to use the GPT or APM scheme before it can work with Time Machine.
Disk Utility can identify your drive's partition map scheme and format and change them if they're incorrect. Open Disk Utility and select your external drive in the list on the left. In the lower right corner of the window, you should see the words Partition Map Scheme (see "The Right Partition Scheme"). If it says Master Boot Record and you have a backup volume larger than 512GB, you must repartition the drive. To check on the format of any volume on the drive, select that volume in the list on the left. At the bottom of the window, next to Format, you should see Mac OS Extended (Journaled) or Mac OS Extended (Case-Sensitive, Journaled). If you see anything else, you must reformat that volume.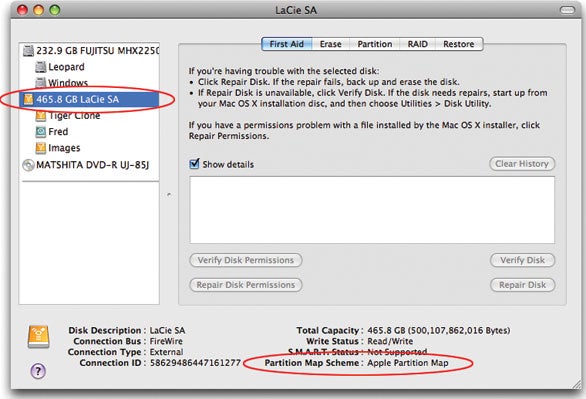 First, a warning: repartitioning erases all the data on your drive; reformatting erases all the data on the volumes you're changing. To repartition your drive, select its icon in the list and click on the Partition tab. Then choose the number of partitions you want (even if that number is one) from the Volume Scheme pop-up menu. Select each partition you just created, type a name, and make sure the Format pop-up menu says Mac OS Extended (Journaled). Then click on Options. In the dialog box that appears, select GUID Partition Table if you'll be using the drive only with Intel Macs; choose Apple Partition Map if you'll be using it only with PowerPC Macs or with both processor types. Click on OK. Finally, click on Apply. In the confirmation dialog box that appears, click on Partition.
If your drive's partition is correct but the format of one or more of the volumes is not, select the volume you want to reformat in the list. Then, in the Erase tab, choose Mac OS Extended (Journaled) from the Volume Format pop-up menu and click on Erase. To confirm your choice, click on Erase in the dialog box that appears.
Use a network volume
Besides using a Time Capsule device or an external USB or FireWire drive, Time Machine can back up to a network volume. However, Apple has placed a number of restrictions on Time Machine's network support, most of which involve the computer that's sharing the hard disk you'll select as your backup destination.
For starters, you have to partition the drive in the APM or GPT scheme. You must format the volume as Mac OS Extended (Journaled). The computer to which you attach the drive must be running Leopard (client or server). And the disk must be shared using AFP, the default protocol for Personal File Sharing. Set this up by clicking on Options after selecting File Sharing in the Sharing preference pane.
Make sure that the disk is mounted in the Finder on the Mac you want to back up. To check on this, click on a computer name in the sidebar of a Finder window, and look for a message at the top of the window that says Connected As: your user name. If it says Connected As: Guest, click on Connect As and enter the user name and password for the shared volume. Then double-click on the folder representing the disk you want to use for backups to ensure that it's mounted.
Finally, to tell Time Machine to use the network volume, click on the Change Disk (or Choose Backup Disk) button in the Time Machine preference pane, select the network volume in the list, and click on Use For Backup.
Restore your files
You've just realized that an important file is missing. No problem; Time Machine backed it up. Here's how to restore it. First go to the Finder window where the file used to be. Then click on the Time Machine icon in the Dock. The frontmost window slides to the center of the screen, the background displays an animated 3-D star field, and additional copies of the window recede into the background.
On this screen, click on the back arrow to jump to the most recent backup of that particular folder that was different from the current one. Click on it again to jump to the next change, and so on. Or click on one of the hash lines along the right side of the window, each of which represents a single backup session. When you locate the file or folder you want to restore, click on it once to select it, and then click on the Restore button in the lower right corner of the screen. Time Machine copies the file to the same location in the "present," returning you to that folder in the Finder.
Restore files from special Apple programs
Apple's Mail, Address Book, and iPhoto '08 include enhanced support for Time Machine. That means you can go back in time to find a particular e-mail message, contact, or photograph without having to worry about where the underlying file is actually stored.
To search for an item in Mail, Address Book, or iPhoto, first navigate to a view where the item would normally appear—for example, type a name or keyword into the Search box, or select a particular mailbox or album. Then click on the Time Machine icon in the Dock and navigate to the point in time where the item reappears. Click on Restore to bring it back to the present, or, in Address Book and iPhoto, click on Restore All to copy all your contacts or photos from the time of that backup to the present.
Note that iPhoto places restored photos in a new, untitled album, while Mail places restored messages, notes, and to-do items in a new mailbox called Recovered Items, inside a Time Machine mailbox in the On My Mac portion of the mailbox list.
Restore a whole volume
The 3D Time Machine interface is perfect for finding and restoring individual items, but not for recovering an entire disk. If you need to restore your whole disk from a Time Machine backup, follow these steps.
First, start up from your Leopard Install DVD (hold down the C key as you restart your Mac). In the screen that appears after the language selection screen, choose Utilities: Restore System From Backup. Click on Continue, select your Time Machine backup disk, and click on Continue again. Then select the particular backup you want to restore (most likely the one at the top of the list) and click on Continue. Select your internal disk, click on Restore, and confirm your choice.
Note that Time Machine assumes that the drive to which you're restoring is blank. If it isn't, you can erase it prior to restoring your Time Machine backup by choosing Utilities: Disk Utility and clicking on the Erase Disk button on the Erase tab.
Time Machine's new best friend
If you're looking to make Time Machine work even more invisibly, skip hooking up an external hard drive and instead try the Time Capsule, Apple's new companion hardware for Time Machine. This little white device ($299 for 500GB or $499 for 1TB) combines an 802.11n network access point (equivalent to an AirPort Extreme Base Station) and a sizable hard-disk drive, which means that you can back up all the Macs in the house wirelessly. The Time Capsule is particularly useful for laptops, as it can back them up wherever they are as long as they're connected to the network. And because the device is preconfigured to work with Time Machine, the only setup required to get your backups going is to select the Time Capsule as the destination in the Time Machine preference pane.
Beyond acting as a backup device, the Time Capsule allows you to share USB printers and devices including your iPod or Apple TV. Windows computers and Macs running OS X 10.4 (Tiger) can access the Time Capsule as a wireless hard drive. The device features dual-band antennas for 2.4GHz or 5GHz frequencies. It has one USB 2.0, one Gigabit Ethernet, and three Gigabit LAN ports. Time Machine offers Wi-Fi Protected Access (WPA and WPA-2), 128-bit WEP encryption, and a built-in NAT firewall that supports NAT-PMP for Leopard's Back To My Mac feature.
[Joe Kissell is the senior editor of TidBits and the author of the e-book Take Control of Mac OS X Backups ( TidBits Publishing, 2007).]