Palm and AT&T have announced the release of the Palm Centro smart device for AT&T, the first GSM-based version of Palm's entry-level smart phone.
Palm's smallest GSM device, the Centro for AT&T, runs the Palm OS and features a quad-band GSM radio that works in most of the world. It uses a 2.2-inch, 320-by-320-pixel touch screen and offers a full keyboard. It weighs 4.4 ounces and measures 4.2 inches high by 2.1 inches wide by 0.7 inches deep.
Compared to the iPhone, Palm sees the Centro as aimed at a different group of consumers. "With Palm's popular threaded-chat-style messaging, IM, corporate and personal e-mail, and full-size keyboard, Centro is more of a messaging device than the iPhone, which is a device more focused on music and media," said Phil McClendon, Palm's product line manager for consumer smartphones. "The customers looking at Centro and iPhone also have different feature and price requirements. The people that will be interested in Centro are new to the smart phone market and tend to be fairly price-sensitive. That is one reason why Cento is a fraction of the cost of the iPhone."
The Centro includes Bluetooth 1.2 wireless connectivity and EDGE for wireless data (no Wi-Fi or 3G). It features a 1.3-megapixel camera with a 2x digital zoom and video capture capabilities, a removable battery, and 64MB of user storage with a microSD expansion slot that supports up to 4GB of additional storage.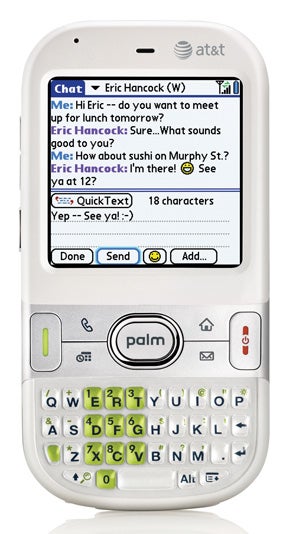 It comes with VersaMail and Xpress Mail software for e-mail access; the Blazer Web browser; and a built-in chat application supports AIM, Windows Live Messenger, and Yahoo IM with a chat-style window to make conversations easy to follow. There's also Pocket Tunes Deluxe software for music playback (it won't work with music purchased from the iTunes Store, however).
Contacts and calendars can sync with the Palm Desktop software or using iCal and Address Book on the Mac. The Centro requires OS X 10.2 or higher and.
There are also several features that require additional fees. XM Radio Mobile offers 25 commercial-free XM Radio channels for $8.99 a month.
A Push To Talk feature gives you walkie-talkie-like communication with up to 29 people at once. You can purchase unlimited Push To Talk minutes with Nation Plans for $9.99 a month for each line and with FamilyTalk for $19.99 a month for each group (two to five lines). Or you can use it on a pay-per-use basis for $0.15 a minute.
A $99.99 Bluetooth GPS receiver works with the TeleNav GPS Navigator service to offer access to maps and more than 10 million points of interest, as well as turn-by-turn voice and on-screen driving directions for $9.99 a month.
Finally, for $3.99 a month, a MusicID feature can identify songs from a database of more than 3 million artists and titles if you hold the Centro up to a speaker. It shows the title and artist, and keeps track of the songs it identifies for future reference.
The new Palm Centro is currently available in glacier white with green accents for $99.99 after a mail-in rebate and with a 2-year service agreement, or $349.99 without a contract. Obsidian black will be available in about a month. Unlimited e-mail and data access is available for $30 a month with AT&T's PDA Personal data package (in addition to a voice plan). Messaging packages start at $5 for 200 text, picture, video, or instant messages. Unlimited messaging is available for $20 for individual plans and $30 for FamilyTalk plans.