At a Glance
Expert's Rating
Pros
HTML editing capabilities
Stores workspaces
Shows thumbnails of open pages
Site-specific filtering and preferences
Checks bookmarks for changes
Remembers open tabs and windows
Our Verdict
The Omni Group's OmniWeb browser is like an enhanced, extra-powerful version of Safari. If you've ever been frustrated by Safari's limited flexibility in areas like controlling security settings and managing bookmarks, you may find just what you're looking for in OmniWeb 5.6.
The most visible difference between OmniWeb and most other browsers is its approach to tabbed browsing. Rather than use conventional tabs across the top of the window, OmniWeb puts a list of thumbnails (optionally replaced with page titles) in a drawer on the side of the window. Thumbnails can be easily reorderded, dragged to new windows, or deleted. Because you can see the contents of each open browser tab, rather than just its name, navigation requires less mental effort. OmniWeb can automatically save all your open windows and tabs (including their sizes and positions on screen) and restore them when you relaunch the application. In addition, you can manually store your own arbitrary sets of workspaces and recall them later.
OmniWeb gives you extraordinary control over the way each site appears and behaves. For example, on a per-domain basis, you can specify a number of details, including the default text size; whether pop-up windows and various other ads are blocked; and whether or to what extent Java, JavaScript, and cookies may be used. (In most other browsers, preferences such as these apply globally.) In addition, OmniWeb offers built-in HTML editing capabilities, including syntax coloring and on-the-fly reformatting, all of which may be handy for anyone who maintains Web sites.
Besides the usual array of bookmark management features, OmniWeb lets you specify how often any page should be checked for changes. You can then see at a glance, by way of a special icon next to any item on the Bookmarks menu, whether anything changed on that page since your last visit.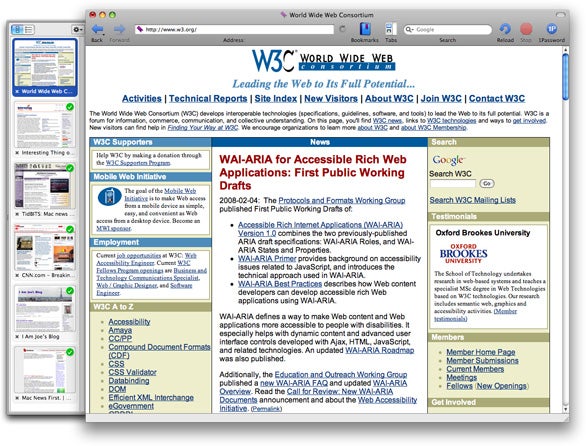 Like Safari, OmniWeb has a search field built into the toolbar; unlike Safari, you can choose from among several different search engines using a pop-up menu, or add new sites if the built-in choices aren't adequate. On the other hand, OmniWeb's RSS capabilities are modest at best. Article titles appear in a menu, with icons indicating those that are unread, but you can't scan a page full of article summaries; you must go to each article's Web page individually to find out what it's about. The developer says expanded RSS capabilities are planned for a future version. (Version 5.7 is currently in beta and available from the company's Web site.)
Macworld's buying advice
OmniWeb 5.6 is a solid, capable browser with a thorough range of features and an uncluttered interface. Although Safari can be extended (using unofficial third-party add-ons) to include many of OmniWeb's capabilities, those who prefer a simple, integrated package may well find OmniWeb worth the small investment.
[Joe Kissell is the senior editor of TidBits and the author of numerous e-books about Mac OS X.]