At a Glance
Expert's Rating
Pros
Built-in e-mail client, RSS reader, and other Internet applications
Capable of storing sessions and remembering open tabs and windows
Web development tools
Customizable look and feel
Anti-phishing capabilities
Site-specific filtering and preferences
Cons
Poor management of stored form data
Rendering glitches with HTML form controls
A few bugs
Our Verdict
As Mac browsers go, Opera stands out as having one of the most extensive feature lists. Besides a comprehensive set of Web browsing capabilities, it includes an e-mail client, RSS reader, IRC chat client, NNTP newsgroup reader, BitTorrent client, Web development tools, support for user-created "skins," and even Dashboard-like widgets. It has everything but the kitchen sink—but that includes a few rough edges.
When it comes to browsing, Opera offers a ton of customization options. You can turn on (or off) several different toolbars, and otherwise modify them to meet your needs. The Panels feature gives you easy access to bookmarks, widgets, notes, history, and more in a window sidebar. Thumbnails appear when you hover over a tab, and you can rearrange the tab order. You can also save sets of tabs and windows (called sessions) and restore them easily; plus, Opera is able to restore your last session when you launch the program. The main toolbar's search field is also configurable, so you can use whatever search engine you prefer.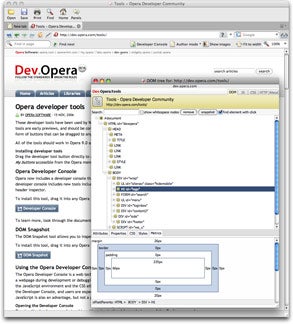 One of Opera's newest features is Speed Dial, a grid of up to nine favorite Web sites that appears every time you create a new tab—a feature that the company has added since we last reviewed the program ( Opera 8.5; ). Speed Dial lets you access any site from its grid with a single click (or keyboard shortcut). This seems only slightly more useful to me than conventional bookmarks, though it may be handy for users who regularly visit a handful of sites.
Opera now has an anti-phishing filter that helps to identify fake Web sites that may be trying to steal personal information. It also has highly configurable pop-up blocking and numerous other site-specific security settings. Opera can automatically remember usernames, passwords, and other form values and fill them in at your request. However, its facilities for editing stored information are weak; for example, there's no way to see what password you've saved for a given site. The company claims that this is for security reasons, though I would prefer a password-protected option to access this information. Furthermore, Opera doesn't use the Keychain or enable the use of third-party extensions like Agile Web Solutions' 1Password ($30).
Opera uses a proprietary rendering engine called Presto. In almost every test, it displayed pages exactly the way Safari did. However, I did notice a few display glitches and loading problems, especially when it came to forms. At times, the browser displayed buttons, pop-up menus, and text entry fields improperly (occasionally to the point of making a form unusable), and the text on the controls themselves often appeared off-center. The company is aware of these problems and claims they should be rectified in version 9.5. (When I tested the beta version of 9.5, the situation did appear to be improved.) In general, Opera was reliable and reasonably speedy, though the application sometimes launched slowly, and even crashed a couple of times (again, the company is working on a fix).
Macworld's buying advice
With its comprehensive set of browsing and other features, Opera 9.26 is an interesting choice for anyone who wants an all-in-one Internet application. But if you don't need all those extras, you may have a more pleasant Web surfing experience with Safari, Firefox, or another browser.
[Joe Kissell is the senior editor of TidBits and the author of numerous e-books about Mac OS X.]
[Editor's Note: Updated Mar 13 at 3:40 p.m PT to check for software changes from version 9.25 to 9.26. The mouse rating did not change.]