At a Glance
Expert's Rating
Pros
Different game play modes and difficulty levels
Modest system requirements
Online score ranking
Cons
Trippy graphics can stumble over their own feet and create a confusing game space
Our Verdict
Every so often a game comes along that makes my ganglia twitch, and Freeverse Software's Neon Tango is such a game. It's a deconstructed arcade action game that's psychedelic, intense, and really cool-looking.
Neon Tango brings new meaning to the words eye candy. It's a spiritual successor to one of my all-time favorite Mac games, the long-lamented Battle Girl, which came out more than a decade ago from an indie shop called Ultra/United.
There's no storyline in Neon Tango, just a whole lot of action. In this 2-D, top-down shooter, you navigate a large play area filled with obstacles (walls) and hostile enemies. You operate a dart-shaped ship that fires bursts of lasers and you can deploy power-up weapons that you collect from around the screen. A map or radar screen in the upper right corner tells you where the enemies (and goodies) are located and gives you a rough sketch of your surroundings. You can also charge your cannon to release a huge energy blast that will devastate your foes, and strafe the bad guys by swooping left and right without changing direction.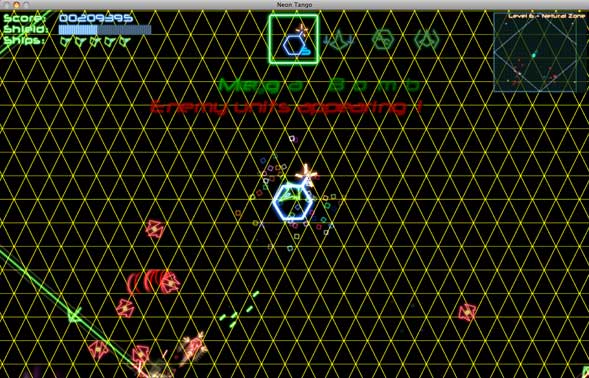 The game play mechanics are borrowed straight from another hit Freeverse arcade game, Wingnuts 2: Raina's Revenge ( ), an homage to the classic coin-op hit Time Pilot. In fact, the same core technology that powers Neon Tango was used in Wingnuts 2, though the end result is very different, thanks to totally abstract art direction that reduces everything to vector-based, glowing geometric objects. There are some bad guys that look like ships or have a vaguely organic appearance to them—especially the boss characters that look like scorpions, jellyfish and all other manners of creepy-crawlies.
The lightshow emanating from the on-screen action is absolutely stunning, especially when the screen is crowded with enemies and weapon fire. It can be a bit challenging—even overwhelming, at times—to filter the signal through the noise. But it's a really pretty game to look at.
All this is augmented with an original soundtrack of electronic music by one of Freeverse's frequent collaborators, Andrew "Digital Droo" Tokuda, who's up to his usual standards of excellence. I venture to say the soundtrack would stand up to its own listening independent of the game, but I'll disclaim that I'm an unabashed Digital Droo fan.
Neon Tango has no multiplayer capability, but Freeverse includes an online scoring mechanism so you can track how you and your friends are doing against each other in the different gameplay modes (Campaign, Survival, and Fast Score). The multiple difficulty levels should keep you busy for a while. In all, there are 50 stages of play, progressively more difficult as time goes on.
The bottom line
Neon Tango may be too abstract to appeal to everyone, but if you have an interest in retro-gaming, especially classics like Time Pilot, you ought to check it out. A demo is available for download.