At a Glance
Expert's Rating
Pros
Remembers open windows and tabs when you quit
Site-specific filtering
Clean interface
Nice tabbed browsing features
Checks bookmarks for changes
Stores sessions
Cons
No documentation
Lack of RSS support
Constant reminders to upgrade to paid version
Limited form-filling capabilities
Our Verdict
iCab has been around, in one form or another, since 1999. It's the only browser still actively supported not only on Mac OS 9, but as far back as System 7.1—and even on 68k Macs. But version 4.0.1 is all about the present: it runs natively on Intel-based Macs, fully supports Leopard, and has a slick new user interface on the outside with Apple's WebKit engine running things behind the scenes.
Older versions of iCab were notorious for rendering problems ( iCab 2.9.8, for example), but that's no longer the case: iCab 4.0 is every bit as capable as Safari ( ) in its presentation of Web content. Also like Safari, its interface now features tabs that you can drag and drop to reorder. If you choose, iCab can recall which tabs and windows you have open, and automatically restore them when you relaunch the browser. It also lets you manually save sets of tabs or sessions (which include multiple windows) so you can restore them later as a group.
iCab offers a decent selection of configuration options. These include a full range of bookmark management features, such as the ability to check, either manually or on a schedule, whether the content of a Web page has changed since you last visited it. You can customize the group of search engines that are listed in the toolbar's search field. You can also create filters that define the settings used by individual sites for things like ads, multimedia, and JavaScript, though the interface for doing so is much more cumbersome than that of OmniWeb ( ), which offers a similar feature. Also, on any Web form with a <<textarea>> control (a multi-line editable text box), iCab now makes the control resizable, so you can simply drag it to give yourself as much editing room as you need.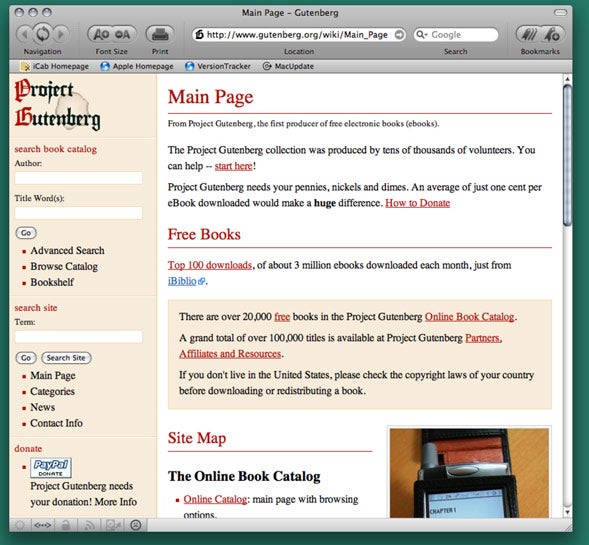 The program does come with its share of irritations. Although iCab includes support for filling in forms, it lacks an automatic learning feature, and the process of setting up URLs, field names, and values for later use is quite awkward. During testing, iCab randomly switched into offline mode a few times (meaning that it could not communicate with any Web servers). The developer suggested that I might have accidentally clicked on a toolbar button to enter offline mode, though I don't remember doing so. The program also lacks RSS support and doesn't have any documentation; there is a brief FAQ online, but the general dearth of guidance made it hard to parse certain features. (The developer says he is working on creating more documentation.)
You can download and use iCab 4 for free, though every time you launch it (and periodically as you use it) you'll see a prominent alert inviting you to pay $25 to upgrade to iCab Pro. According to the developer, iCab Pro currently offers no additional features except for the removal of the shareware notice and easier access to new beta versions.
Macworld's buying advice
Although iCab's latest version is a huge step forward, its remaining problems make it difficult for me to recommend paying any amount for the product. But what about the free version? Though you still get access to highly customizable filtering features, link checking, and a few nice interface touches, iCab offers nothing truly unique, and is still, on the whole, one of the less satisfying browsers for OS X.
[Joe Kissell is the senior editor of TidBits and the author of numerous e-books about Mac OS X.]