At a Glance
Expert's Rating
Pros
Intuitive and customizable interface
Fully Web standards compliant
Visual preview tabs
Full-screen mode
Good Web development tools
Cons
Buggy bookmarking
Interface still has some rough edges
Our Verdict
The first thing to know about Shiira (besides that it is named after a type of fish) is that it is built on the same Web page display technology as Apple's Safari. Because of that, for all intents and purposes, Web pages will display exactly the same in Shiira 2.2 as they do in Safari. Pages display just as quickly and just as accurately, with the same attention to Web standards as you will find in Safari.
The goal of the Shiira project, though, is not to make another Safari, but to create an open-source Mac Web browser that improves on the user interface and functionality of Apple's browser while also allowing for easy localization to different languages and feature customization.
You'll find most of Safari's standard features, such as Private Browsing and an RSS reader, in Shiira. But this browser adds some intriguing features you won't see in Safari, including visual preview tabs that show a thumbnail of the Web page and an Exposé-like feature lets you see all the web page thumbnails at once, making it easy to jump between open tabs and windows. Shiira also offers a full-screen mode for maximum viewing area; transparent floating palettes for bookmarks, history, and RSS feeds; and a built-in page inspector (which Web designers will certainly appreciate).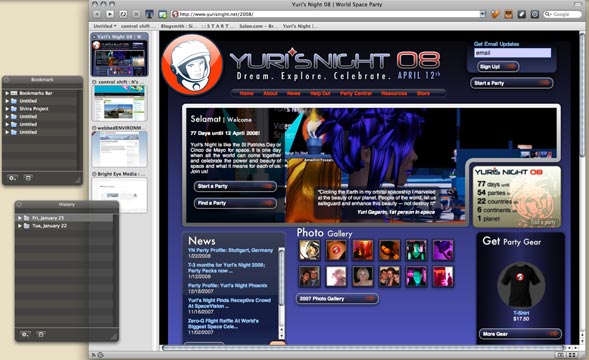 While there is a lot to like about Shiira, the browser's interface is still buggy, particularly when it comes to bookmarking. And those bugs will infuriate users who like to keep their links organized. For example, Shiira allows you to create folders of bookmarks, but you can't name any of the folders—as a result, they're all labeled "Untitled." When I tried moving any of my bookmarks into a folder, they would disappear, seemingly deleted; if I quit and restarted Shiira, they would reappear, although not in the location I tried moving them to.
Macworld's buying advice
Although innovations such as the visual preview tabs are valuable tools, Shiira's problems with filing bookmarks are too frustrating for me to endorse it as an alternative to Safari. However, once the developers get these kinks worked out, I have no doubt that it will take its place alongside other Mac Web browsers worthy of your consideration.
[Jason Cranford Teague is the Director of Web Design Standards for AOL Programming and the author of several books about computer design. Jason regularly rants about technology and culture on his blog.]