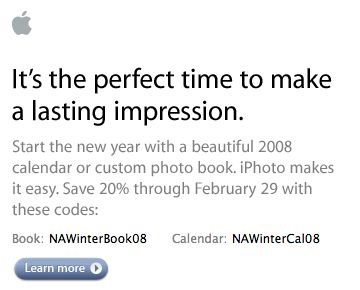 Apple said Friday that it would extend its winter promotion of iPhoto books and calendars through March 7 due to issues with its online ordering system.
In late December, Apple send out a mailing advertising a 20 percent discount on iPhoto books and calendars through the end of February, with North American users being instructed to use the coupon codes NAWinterBook08 and NAWinterCal08.
However, on Friday several iPhoto users reported that the coupon codes associated with the Apple offer won't be accepted by Apple's online ordering system.
"We've heard reports that some of our customers had some problems redeeming their coupons today," Bill Evans, an Apple spokesman, told Macworld. "We're sorry for any inconvenience this has caused. We are working to solve the problem as quickly as possible and are extending the promotion through March 7."