Adobe Illustrator is an important, yet often overlooked, tool for adding flair to your creative projects. This is mostly due to the fact that it can be a complex program to learn, but once you learn the basics, there's really not much you can't do in this venerable vector graphics program.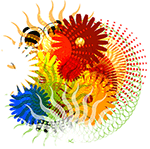 BittBox has a really well-written tutorial showing you how to create colorful circular shapes in Illustrator with little fuss. While they look complex, you'll be surprised at how easily you'll be creating them after reading through this tutorial. These designs can make great background patterns and highlight items in your latest Web or print projects. The nice thing is, they are so simple to create that you can make a bunch of them and keep them on-hand as sort of your own stock library.
Pie charts are used in a lot of design projects such as annual reports, PowerPoint presentations and brochures. Unfortunately, there's not much sexiness to them. PinkZap has a brief tutorial which will show you how you can quickly add some pizzaz to those boring informational pie charts using the Illustrator Pie Graph tool and a little imagination on your part.
And finally, IllustrationClass has a pile of spectacular tutorials in both English and Spanish that are a little more advanced. What I like about these tutorials is that the author takes you through the process of creating illustrations from rough sketch to finished product in most cases. Each tutorial includes snapshots of each step along with the instructions, and the final Illustrator files are available for download as well. Be warned though, the tutorials range from 5MB to over 20MB in size, so you'll most likely want to have a broadband connection for downloading.
[James Dempsey runs The Graphic Mac, which offers tips, tricks and opinion on a variety of design and Mac OS X topics, including links to more great tutorials.]
Note: When you purchase something after clicking links in our articles, we may earn a small commission. Read our affiliate link policy for more details.